Definition
BREW (Binary Runtime Environment for Wireless)
BREW (Binary Runtime Environment for Wireless) is Qualcomm's open source application development platform for wireless devices equipped for code division multiple access (CDMA) technology. BREW makes it possible for developers to create portable applications that will work on any handsets equipped with CDMA chipsets. Because BREW runs in between the application and the chip operating system software, the application can use the device's functionality without the developer needing to code to the system interface or even having to understand wireless applications. Users can download applications - such as text chat, enhanced e-mail, location positioning, games (both online and offline), and Internet radio - from carrier networks to any BREW-enabled phone.
BREW is competing for wireless software market share with J2ME (Java 2 Micro Edition), a similar platform from Sun Microsystems. The initial version of BREW is solely for CDMA networks; later versions could be enabled for time division multiple access (TDMA) and Global System for Mobile Communication (GSM) networks.
Content Continues Below

Download this free guide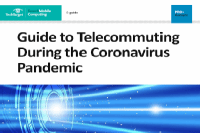 Download Your Complete Guide to Telecommuting
Receive insights to help you quickly deploy the technology needed to support telecommuting, navigate the challenges that could arise with tool deployments, ensure your remote workers have the infrastructure they need to keep productivity up, and more.
This was last updated in
November 2010
Continue Reading About BREW (Binary Runtime Environment for Wireless)
Dig Deeper on Mobile enterprise application development