EMM software and knowledge buyers need to find the right product
Last updated:January 2017
Editor's note
Enterprise mobility management software is a vital component for the modern enterprise. Its primary purpose is to manage mobile devices, wireless networks and other mobile computing services. As the use of mobile devices is both rapidly increasing and constantly evolving with the steady release of version updates, a solid EMM infrastructure is necessary for businesses with large networks to keep tabs on their information and apps that function within these networks. An EMM platform helps organizations manage the information that passes through these devices as well as control what these users can access.
There are four primary components that typically comprise EMM: mobile device management, mobile application management, mobile information management, mobile content management and unified endpoint management. The main focus of any good EMM platform is to utilize each of these functionalities to manage mobile devices and to secure and control access to the corporate content on them. As pertinent as an EMM plan is in the current age, implementing an effective EMM infrastructure is fraught with possible obstacles such as security concerns, mobile data access, app distribution, supporting a mobile workforce and, most importantly, keeping up with the rapid updates in mobile technologies. Buyers must carefully assess what their enterprises require in terms of policy management, mobile device management, authentication, application development and reporting, among other features. With many vendors on the market, enterprises have plenty of diverse options available to address their EMM needs. This buyer's guide will provide the knowledge necessary to select the right EMM software so organizations can stay up to date and ahead of the curve.
1

The importance of EMM software in the modern enterprise

Modern organizations need EMM software to manage and monitor the mobile device activity that occurs on a company network. Having solid EMM software will allow companies to stay up to speed on how employees can access information and work.
2

What buyers need in an EMM software purchase

When purchasing EMM software, buyers must carefully consider the characteristics and conditions that shape their organizations and analyze which products would be most suitable.

Download this free guide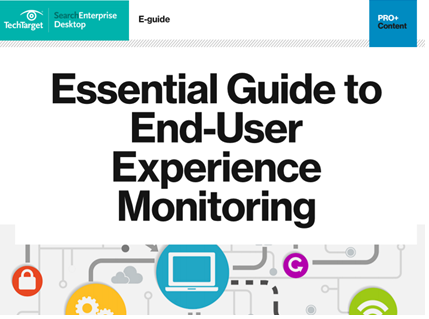 Your Essential Guide to End-User Experience Monitoring
End-user experience monitoring tools can help IT pinpoint and resolve problems faster. In this guide, you'll find out how to navigate the cluttered market and compare 9 end-user experience monitoring tools.
3

The top EMM vendors in the market and how they would suit your company needs

There are many options available in the EMM software market. Read more about the most important functions of an EMM infrastructure and how the top vendors can address those needs.
4

The top vendors in the EMM market and what they offer your organization

The top vendors in the EMM software market are diverse with different strengths and weaknesses in regards to policy management, mobile device management, authentication, application development and reporting among other capabilities. Read on for more details on the top products and how they can serve your EMM needs.