 BACKGROUND IMAGE: iSTOCK/GETTY IMAGES
Buy the right enterprise mobile devices for your workers
Editor's note
Mobile devices are a fast-growing technology and their presence in the enterprise is becoming more and more vital. Enterprise mobile devices -- in the form of smartphones and tablets -- provide innumerable benefits to workers, and these benefits will continue to broaden with time as both the market and technology evolve.
Employees can get work done faster and more efficiently and communicate from remote locations. A good mobile device can also enhance the flexibility with which employees work and give organizations a competitive edge by appearing more tech savvy.
Granted, like any new technology, mobile devices also offer challenges if admins do not implement them properly. Enterprise mobile devices can open the organization up to security risks if users visit malicious websites and open spam emails. Using enterprise mobile devices on unsecured Wi-Fi networks can also make sensitive corporate information vulnerable to hackers and cybercriminals.
A solid enterprise mobility management platform can help admins to manage all the new endpoints mobile device implementations bring.
This buyer's guide provides valuable insight into how buyers can select the right vendors for their workers. Since the options are so extensive, buyers must have a way to both establish their criteria and then streamline their options.
When assessing prospective mobile devices, buyers must first consider whether their employees would benefit from tablets, smartphones or both. A tablet's size makes it easier to perform more complex work, but with smaller smartphones, workers have more portability.
The operating system (OS) a mobile device utilizes is another critical buying factor. While business devices favor iOS, most consumers prefer devices that run on Android. Buyers should also consider usability, management and security features, as compromised data is one of the biggest risks that come with mobile device implementation. Lastly, this guide includes in-depth descriptions of the top vendors who offer both tablets and smartphones and a rundown of all their current products.
The mobile device market is fast-moving and constantly evolving, so this buyer's guide will provide readers with the clarity they need to sift through the seemingly endless options and pinpoint what device types and OS platforms -- among other characteristics -- would help workers reap all the benefits that enterprise mobile devices can provide.
1

How to make the big mobile devices purchase

Discover the notable characteristics and features that mobile devices for the enterprise should possess and, of these capabilities, what buyers should look at when evaluating their purchasing options.
2

Compare the leading options among enterprise mobile devices

Learn how the vendors that offer tablets and smartphones compare so you can select the mobile devices that best meet your organization's needs.

Download this free guide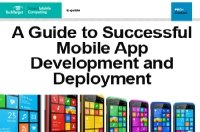 A Guide to Successful Mobile App Development and Deployment
This expert guide provides 3 key considerations when building mobile apps, an overview of the top 4 options for deploying enterprise mobile apps to users more efficiently, and a features and functionalities snapshot of 12 prominent MADPs on the market.
3

Rounding up the leading vendors and their mobile devices

When considering tablets and smartphones for the enterprise, buyers have a diverse market from which to select. Read this overview of the different enterprise mobile devices available.