Step 4: Laptop security summation
Laptops with sensitive data are getting stolen every day. Contributor Kevin Beaver says the best way to secure your laptops is to understand how they will be attacked. He provides the basic attack methods and a set of contingencies in this step-by-step guide.
Looking for something else?
Those are real issues happening to real people and the problem can be avoided if you -- and your management -- do the right things. Here are some final takeaways to keep your laptops and other stolen computers safe:

Download this free guide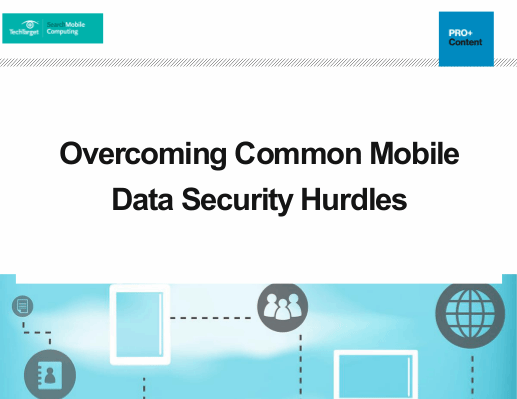 Free Guide: Strategies to improve mobile data security
Are you an IT admin struck with the task of managing the countless amount of mobile devices that connect to your enterprise network every day? Find out how you can rest a little easier when it comes to MDM with this complimentary guide featuring tips on improving your Mobile data security.
By submitting your email address, you agree to receive emails regarding relevant topic offers from TechTarget and its partners. You can withdraw your consent at any time. Contact TechTarget at 275 Grove Street, Newton, MA.
You also agree that your personal information may be transferred and processed in the United States, and that you have read and agree to the Terms of Use and the Privacy Policy.

Look at your laptop vulnerabilities from a malicious-eye view and revisit this issue often.
Educate your users -- over and over again until it's ingrained in their minds -- that thoughts like "I'm just going to run into the grocery store real quick -- the laptop will be OK in the car" and "I just need to step into the restroom real fast -- others in the coffee shop will lookout for my stuff" are very dangerous and can end up getting a lot of people in trouble.
Ensure screens are getting locked via CTRL-ALT-DEL or a short screensaver timeout.
Configure Windows to require passwords to be entered upon return from hibernate, suspend or a screensaver time out.
Most importantly, use whole disk encryption with strong passphrases.
There's always the chance that your stolen systems will be sold, new software will be reloaded, and nothing bad will ever come of it. However, you've got to look at the worst-case scenario. Given that so much information is being stored in so many different places, without whole disk encryption in place combined with sensible password and screen-locking technologies, there's not really any way to be sure everything's protected at all times. That's a risk no savvy business person should ever be willing to take.

Laptop Hacking

Home: Introduction
Step 1: How it can happen
Step 2: How to crack a laptop
Step 3: How to secure a laptop
Step 4: Laptop security summation

About the author: Kevin Beaver, CISSP, is an independent information security consultant, author and speaker with Atlanta-based Principle Logic LLC. He has more than 18 years of experience in IT and specializes in performing information security assessments. Beaver has written five books including Hacking For Dummies (Wiley), Hacking Wireless Networks For Dummies, (Wiley) and The Practical Guide to HIPAA Privacy and Security Compliance(Auerbach). He can be reached at kbeaver@principlelogic.com.

Dig Deeper on Mobile Security
PRO+
Content
Find more PRO+ content and other member only offers, here.