Problem solve
Get help with specific problems with your technologies, process and projects.
Wireless networks on cusp of explosive growth
As wireless standards take shape, companies should examine potential benefits by looking at applications, devices and users.
This Article Covers
RELATED TOPICS
Looking for something else?

Download this free guide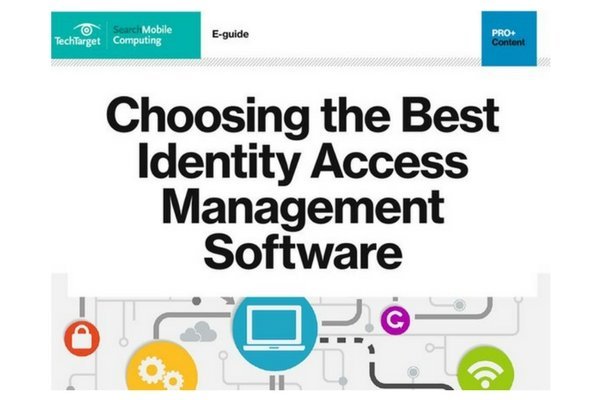 PDF: How to Choose the Best Identity Access Management Software
Many IAM products flood today's market, with a variety of different features. Download this guide to prioritize which capabilities are essential to the business before you make a final decision.

By submitting your personal information, you agree that TechTarget and its partners may contact you regarding relevant content, products and special offers.

You also agree that your personal information may be transferred and processed in the United States, and that you have read and agree to the Terms of Use and the Privacy Policy.

Wireless networks on cusp of explosive growth As wireless standards take shape, enterprises should examine potential benefits by looking at applications, devices and users. The key: know what your needs are, and don't try to plan too far ahead. by Garry Kranz A recent Gartner Dataquest survey predicted that 50% of U.S. businesses would integrate some form of wireless networking technology into their infrastructures by the end of 2002. Rapidly changing and incompatible protocols, however, may be hampering that rate of adoption. How should you choose the right wireless technology for your business? TechTarget asked Phillip Redman, research director with Gartner Group of Stamford, Conn., to help clear up the confusion and provide some tips on developing a wireless implementation strategy. TechTarget: How can enterprises sift through this information and apply it to their IT planning processes? Redman: They have to look at whom their users are, what applications they have and the type of devices being used. This will help enterprises evaluate whether to spend money on technology today or wait for a higher, new technology in the future. A lot of it really is application-driven. Applications should guide your technology choice, instead of technology guiding your applications. It's not going to work that way. ___________________________________________________________ OPEN STORAGE MANAGEMENT: TOOLS FOR THE NEW REALITY EMC Corporation Delivers Open Software for Automated Information Storage On October 29, EMC CEO Joe Tucci and CTO Jim Rothnie introduced new software products and technologies for automated information storage management. Learn how you can benefit. Get an announcement overview, detailed product and technology information, links to the event webcast, and more. http://ad.doubleclick.net/clk;3552862;5058249;p?http://www.emc.com/techtarget/v15/index.html
____________________________________________________________ TechTarget: Since standards are still evolving, and some devices and products aren't available for purchase yet, how should companies approach their budgeting and planning? Should they be looking out five years? Redman: Certainly five years is a long time to spend planning your technology. I would say two to three years maximum. Evaluate your current needs and how they could be filled by existing technology. Then, look ahead to future technology needs for your applications. It's certainly worth having a vision and putting that vision down on paper, assessing what you'll need to get to reach that vision. Is it equipping all your stores with wireless LANs so that users can have Internet access to the store and you can offer competitive prices on your Web site? Or is it offering e-mail application capabilities? Perhaps it's looking at sales, where stores get crowded and you bring in mobile units serving customers wherever they are, not dependent on a fixed cash register. Or are you looking at an enterprise application -- extending your wired LAN to other offices, conference rooms, shared spaces, or to support temporary workers? Are you in a warehouse and looking to use a wireless LAN to record your inventory as trucks pull up to the parking lot? There's a plethora of applications out there, each with a different ROI and involving different variables. Each one has to be assessed independently.
Wireless network types
Three types of wireless area networks exist, targeting different markets and often using incompatible protocols:

Wireless personal area networks, or WPANs, are used for short-range communications in the consumer/residential market. A common application for WPANs is Bluetooth, which Stamford, Conn.-based Gartner Group says should be viewed "not as a competing wireless technology, but as a companion" to the more utilitarian 802.11 standards crafted by the Institute of Electrical and Electronics Engineers (IEEE).
Wireless local area networks (WLANs) are used for corporate or Internet communications on campuses or enterprises. Specifications include 802.11b/a and, in Europe, HiperLAN2 (High Performance Radio LAN).
Wireless wide area network (WWAN) is used to link cities, states or large enterprises. One common protocol for this type of network is 802.11a.
TechTarget: There seems to be a lot of confusion surrounding the different wireless protocols. Does lack of a single uniform wireless standard hamstring IT departments eager to deploy wireless networking? Redman: No, not really. If you're looking at Bluetooth, there's only one Bluetooth standard. If you're talking about the way those solutions are implemented, that's a different problem. It's all about compatibility. Look at 802.11. It has only one standard, but (all 802.11 technologies) are compatible. There are some competing technologies out there, but there's no one gold standard for technologies. But you're right: there are a lot of evolving platforms. The challenge to enterprises is to understand their current needs and how existing technology can help them out, and to not plan more than two years in advance for (future) technology applications. It's not just on the network side. Devices also are evolving. For instance, you have a handheld device and want to support conferencing. You'll have to choose which handheld platform to run. If you're going to look at the application, are you going to use a Lotus-based application? Oracle? Sybase? Microsoft? Those are all evolving too. Having an understanding of how technology can help you is very, very important, but a lot of it is really a matter of self-introspection. Companies need to look at how the different types of networking technologies --whether they're wired or wireless -- will help them grow, either because they need to decrease costs, increase efficiencies, or have the opportunity of getting more business. TechTarget: Gartner has predicted half of all U.S. businesses would deploy wireless LANs by the end of 2002. How close are we to witnessing widespread wireless adoption? Redman: Wireless LANs aren't going to be for every company. But many enterprises will see a need, whether it's for vertical applications, horizontal applications, or literally hundreds of other applications. As that need increases we'll see more implementation and wireless LANs will become part of an enterprise's technology capabilities, like cellular phones, PDAs and notebook computers. TechTarget: How should security be addressed when planning a WLAN deployment? Redman: Security is at the top of the list when it comes to applications technology. The two areas to be most concerned about are encryption and authentication. Encryption ensures that users who are transmitting data on the network can't eavesdrop. Authentication makes sure that only valid users have access to the network. Those are critical areas to look at as you're making a deployment plan. There are ways to deploy wireless LANs safely, and ways for users to use them safely, and it makes sense to follow the guidelines. Don't just use the technology that comes with networking equipment, but use superior encryption and authentication technologies that are available, particularly if you're using a virtual private network. Garry Kranz is a freelance writer based in Richmond, Va. More on this topic: Visit searchNetworking for links on enterprise wireless technology. SearchServiceProvider has information on providers offering wireless services.

Dig Deeper on Enterprise mobility strategy and policy
PRO+
Content
Find more PRO+ content and other member only offers, here.