Problem solve
Get help with specific problems with your technologies, process and projects.
Dropbox for Teams helps with business file sharing but isn't perfect
Dropbox for Teams is an alternative for business file sharing that offers more IT control. But, like other file-sharing services, it has drawbacks too.
This Article Covers
RELATED TOPICS
Looking for something else?
TECHNOLOGIES

PRODUCTS
Dropbox for Teams is an alternative for organizations that don't want employees using personal cloud storage for corporate data, but also don't want to build an in-house file-sharing service.

Download this free guide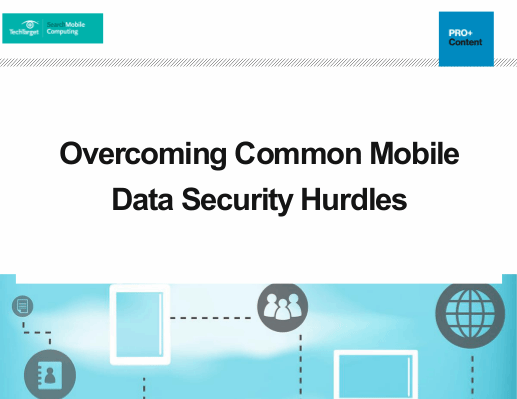 Download: Is your organization's mobile data secure?
Today's IT admins face the challenging task of managing the countless amount of mobile devices that connect to enterprise networks every day. Find out how to eliminate the most common mobile data security pain points and pitfalls in this complimentary best practices guide.
By submitting your personal information, you agree that TechTarget and its partners may contact you regarding relevant content, products and special offers.
You also agree that your personal information may be transferred and processed in the United States, and that you have read and agree to the Terms of Use and the Privacy Policy.
Dropbox is one of the most widely used consumer Web applications among small businesses, with more than 1 million organizations using the service to store documents and share information. With that in mind, Dropbox recently introduced Dropbox for Teams, a twist on its standard offering designed to be a business file-sharing service. Dropbox for Teams gives IT departments more control over how data gets shared (and with whom), but it also has some downsides that organizations should consider.
What's new in Dropbox for Teams
Dropbox is a storage and file-sharing service that automatically synchronizes files to the cloud, where users can easily access them from multiple devices (PCs, Macs, smartphones and tablets). Users can also share folders and files with other Dropbox users and even make them available to non-Dropbox users via custom URLs.
Dropbox for Teams is actually almost identical to the consumer Dropbox service. It uses the same client software and stores data in encrypted, de-duplicated blobs on Amazon's Simple Storage Service (S3). Teams users can even share data with Dropbox users, and administrators can add accounts to or remove them from a team.
The main difference between Dropbox and Dropbox for Teams is that Teams has a new administrative interface with the ability to bundle multiple accounts. Administrators are limited to adding and removing users and viewing invoices; they do not have access to their team's data. Just as with the regular Dropbox file-sharing service, all user data is encrypted and others cannot view it unless it is explicitly shared.
Businesses pay $795 per year for the first five users, and the list price for additional users is $125 each. Dropbox provides Teams users with 1 terabyte (TB) of storage, but will add more storage on request at no extra charge. Dropbox for Teams is only slightly more expensive than a Dropbox Pro account (a paid service for individual users) and is far less expensive than trying to build an in-house business file-sharing service.
Dropbox for Teams downsides
There are some drawbacks to using Dropbox for Teams. Businesses and users will likely balk at using personal accounts with Dropbox for Teams, so the best option is to create new accounts using business email addresses.
Note that the Dropbox client software can only be associated with a single account at a time, so users must decide which account to use on a device-by-device basis. Dropbox suggests using the shared folders feature to make data accessible for users with multiple accounts, but this approach could get confusing. End users could find themselves without access to data they did not explicitly share from one account to the other.
Of course, many companies are already using Dropbox for business file sharing even without the Teams option. This approach is a viable choice, but it takes billing and payment out of the organization's hands and leaves it with individual users. Another issue to be aware of is that the data in shared folders counts against the storage quotas of all users involved, so accounts can fill up quickly.
Also, Dropbox does not include a mature version-control system. When multiple users access the same file, especially if they are offline, synchronization can be unpredictable. To remedy this issue, Dropbox recommends creating multiple copies of edited files in new folders or with different file names. (Dropbox does keep multiple versions online, which users can restore using the Web interface. There is even a Pack-Rat feature that includes an aggressive and unlimited version history, which comes free with Teams accounts.)
In response to increased use in businesses, Dropbox is beginning to add corporate-friendly features to Dropbox for Teams, such as centralized administration. As the service gains traction, it is likely that Dropbox will continue to add features, including Active Directory integration, centralized control of user shares and multiple-account access on one client.
Dig Deeper on Mobile data, back-end services and infrastructure
PRO+
Content
Find more PRO+ content and other member only offers, here.