Problem solve
Get help with specific problems with your technologies, process and projects.
Campus mobile telephony -- Making hard decisions
IT managers are trying to manage their campus mobile telephony situation, but they face a number of challenges. You can't change a user's behavior and confiscate cell phones at the door. So what do you do? Ease your worried minds (and shrinking budgets) with these recommendations from Daniel Taylor.
This Article Covers
RELATED TOPICS
Looking for something else?
We all agree that more and more workers are using their mobile telephones for work. As a matter of fact, we know this not just because of the research. It's the dead spots in the office and on campus that are becoming problematic. On top of this, we have people handing out business cards with five telephone numbers, and that's confusing everyone. IT managers are trying to manage the situation, and they face a number of challenges. Meanwhile, the networking vendors are telling top management to make new investments in a Wi-Fi telephony system that will capitalize on that IP-PBX we're supposed to be buying next quarter.

Download this free guide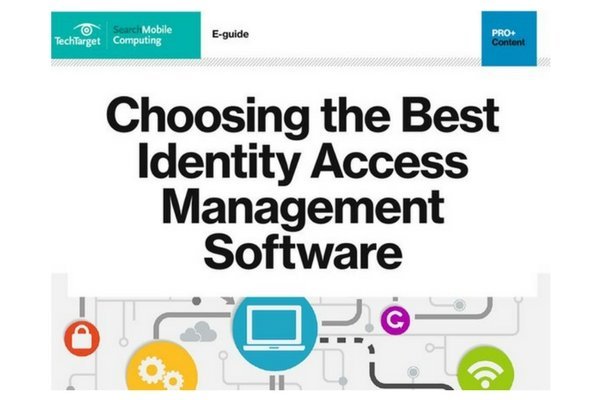 PDF: How to Choose the Best Identity Access Management Software
Many IAM products flood today's market, with a variety of different features. Download this guide to prioritize which capabilities are essential to the business before you make a final decision.

By submitting your personal information, you agree that TechTarget and its partners may contact you regarding relevant content, products and special offers.

You also agree that your personal information may be transferred and processed in the United States, and that you have read and agree to the Terms of Use and the Privacy Policy.

Our natural instincts are to put on the brakes, pull over to the side of the road, and take a break. A long, quiet, restful nap is interrupted by a ringing phone. It's the boss asking: What's the plan for mobile telephony on campus? Are we going to confiscate cell phones at the door? Perhaps it's some form of complex "jamming system" to force everyone to use the desktop telephones that we're paying for anyway.

You can't fight City Hall
The path of least resistance has its merits, but the reality is that you can't change user behavior. People like their mobile telephones, and they make a point of carrying them everywhere and using them. That's good behavior, and we should encourage it. So there's nothing wrong with going with the flow.

Recommendation #1: Improve in-building wireless signal
The first thing to do is to focus on improving the cellular signal on campus. This is a problem today, so there's plenty of honor in solving it. Make the investment internally, and keep your carrier options open. Even if you end up phasing out this network in favor of Wi-Fi telephony, it will provide you with useful infrastructure in the interim and during deployment of the next network.

A key point on in-building solutions is to shop around. Go to school on bi-directional amplifiers (BDAs), passive and active systems, and pico cells. There are several types of solutions that can range in cost from a few thousand dollars to whatever you have to spend. What may work for a large enterprise or a big campus may not be cost-effective in small offices and branch locations, so your solution may include a combination of technologies and architectures.

Categorically, smaller organizations may get away with BDAs for signal improvement. BDAs don't cost much and can provide a decent stop-gap measure. Some carriers may have BDAs and pico cells available at a reasonable price. But larger organizations should plan on their own system that keeps the carrier at arm's length. This is your network, so plan accordingly.

Recommendation #2: Keep an eye on Wi-Fi
It won't hurt to start testing Wi-Fi telephony in your company. A small pilot won't affect the network significantly and will provide valuable data for a larger-scale solution. Down the road, when your boss asks, you'll have better answers than "I'll look into it." By keeping your finger in the pot, you'll be able to keep track of improvements as the technology matures. And it will mature.

Recommendation #3: Plan on enterprise-mobile integration
Enterprise-mobile integration is the longer-term plan. Yes, we'll get rid of desktop terminals and replace them with mobile handsets. Workers will have a single telephone number and voicemail, with the option of a second personal number on the same handset. The question that you'll have to answer about enterprise-mobile integration is whether you want your campus network to be Wi-Fi or cellular. Keep in mind that as you get rid of those desktop terminals, you'll also be reducing your load of 1FBs, so that will free up some budget along the way. As this happens, the cost of wireless will most likely go up as the carriers seek to replace revenues lost in leased line services.

Conclusions
If we follow this line of thinking – improve signal first, evaluate Wi-Fi and plan on enterprise-mobile integration – then we see that this approach works best for enterprises. In the small and midsized business (SMB) and small office/home office (SOHO) categories, the opposite is true. If you're small and need to improve your mobile signal today, it may be best to go straight to a Wi-Fi telephony solution like that currently in trials at T-Mobile USA and available from BT under the Fusion service line. So there we have it. Don't fight your user. And especially, don't try to socialize a new set of devices and a new user interface. Stay with the mature technology today and gradually phase in Wi-Fi telephony and enterprise-mobile integration as those technologies and services become available. You'll already have a network in place, and those dead spots will be history.

About the author: Daniel Taylor is managing director for the Mobile Enterprise Alliance, Inc. (MEA), and he is responsible for global alliance development, programs, marketing and member relations. He brings over fourteen years of high technology experience and is well known as a subject matter expert on many of the aspects of mobility, including wireless data networking, security, enterprise applications and communications services. Prior to the MEA, Dan held a number of product marketing and development positions in the communications industry.



Dig Deeper on Enterprise mobility strategy and policy
PRO+
Content
Find more PRO+ content and other member only offers, here.