Problem solve
Get help with specific problems with your technologies, process and projects.
Campus mobile telephony -- Evaluation criteria
An increasing number of workers use their mobile telephones as their primary business telephone -- which complicates business cards, adds a second voicemail platform for users to manage and grows telephony budgets. Daniel Taylor discusses how investing in Wi-Fi telephony as part of your next Wi-Fi upgrade may be the answer to this complication. But if you make the investment for improvement, will the workers use it?
This Article Covers
RELATED TOPICS
Looking for something else?
If we build it, will they come?
This is the perennial question of just about any IT investment. If we make the investment and try to improve things, will workers use it, or will we have to drag them to the training meetings kicking and screaming?

Download this free guide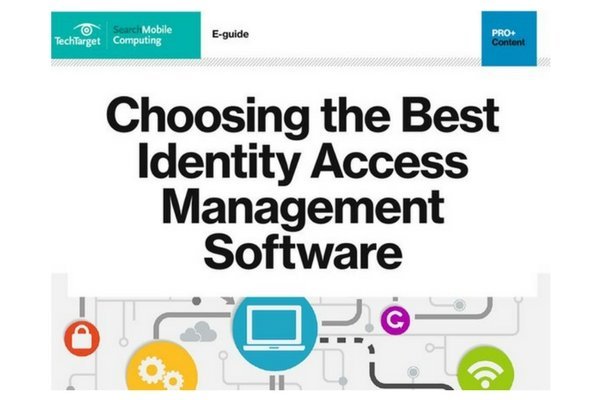 PDF: How to Choose the Best Identity Access Management Software
Many IAM products flood today's market, with a variety of different features. Download this guide to prioritize which capabilities are essential to the business before you make a final decision.

By submitting your personal information, you agree that TechTarget and its partners may contact you regarding relevant content, products and special offers.

You also agree that your personal information may be transferred and processed in the United States, and that you have read and agree to the Terms of Use and the Privacy Policy.

The first four parts of this series have dealt with ways to solve the challenge of dropped mobile telephone calls on campus. We started with the solution that many presume will be the best one – investing in Wi-Fi telephony as part of the next major Wi-Fi upgrade. We discussed PBX integration, which can take the form of a mobile IP/PBX or something

a little more complicated that brings together the legacy PBX, the enterprise network and the carrier infrastructure and in-building wireless solutions for cellular signal improvement.

So will they come? We'll address that question in a few weeks in the final segment of this series. For now, let's take a moment to revisit our objectives and evaluation criteria.

First things first: The objective
Why are we talking about Wi-Fi telephony, enterprise-mobile integration and in-building wireless systems? Our reason is that an increasing number of workers are using their mobile telephones as their primary business telephone. This increased usage is highlighting dead spots on campus, complicating business cards, adding a second voicemail platform for users to manage, and growing telephony budgets. Meanwhile, the company is maintaining a parallel fixed-line telephone network, complete with long-distance calling capabilities, corporate directories and costly desktop terminals.

This means that our objective is to improve campus wireless performance for users who prefer to use a mobile telephone while leveraging existing investments in corporate telephony.

Cost
Of course, there are two kinds of cost: capital expense and operational expense. We needn't revisit the differences between the two, but it's important to recognize that there are few free lunches in the technology industry and that many solutions try to substitute capex for opex and vice versa. The vendors that suggest that you might as well turn on Wi-Fi telephony while you're upgrading the network quickly gloss over the operational considerations of ongoing RF engineering, the logistics of dropped calls and help desks, and added support costs. Enterprise-mobile integration features a significant up-front investment and its own set of opex commitments.

Meanwhile, we continue to pay the carriers for mobile telephony services, and absent a number of production alternatives from the carriers today, it appears that we're probably going to end up spending more for the services (Wi-Fi telephony and enterprise-mobile integration) under discussion today. So are we throwing good money after bad? Or are we future-proofing our investments? Those are open questions with no correct answer today.

Geography
Having 10,000 workers doesn't mean much in terms of economies of scale if they all work in separate offices. By the same token, having the same number of workers on one campus can shift the cost model to the other end of the spectrum. Figuring out what you're going to do with smaller locations will necessitate a different type of solution. Who knows, if you're planning on signal improvement, it's only some of the small offices that may need help, whereas a Wi-Fi telephony solution will have to be deployed wherever you have an office. Geography and worker density throw a curve ball in what may otherwise seem to be a simple solution.

Technology maturity
We haven't said much about maturity of technology, but it's an important consideration. How mature is Wi-Fi telephony? How much do we know about large-scale implementations? Is there enough spectrum? Does it work well enough for business use, or is the sound quality unacceptable?

Mobile IP telephony is clearly in its early stages, so there's a fair amount that has to happen to make it work. The question relates to your level of tolerance. Are you willing to take the added time today, or would you prefer to let someone else suffer through the growing pains? That said, the IP-PBX is a mature technology, and some users actually prefer the sound quality of the newer compression algorithms; so things cut both ways.

Handsets
The availability of suitable handsets is a big issue today. The Wi-Fi vendors are saying that it isn't that big a deal and that more and more handsets are shipping with Wi-Fi, UMA and Bluetooth capabilities. The question of the handset has more to do with deployment than anything else. If your users already self-provision their handsets directly from the carrier, then how long (and how much) will it take to phase in a Wi-Fi telephony deployment? Will it require a new provisioning process? Will IT be involved? What about users who buy the wrong device?

Another question – and this will change with time – is which features are you losing in going to a handset with an 802.11 radio? Are you losing battery life? Or is it the Bluetooth headset? Some users may be lost without some of the features they have today, so this is a good thing to find out before making such a big commitment.

User interface
We don't talk much about user interfaces with mobile telephones, but it's a major challenge. If you've got a new solution (enterprise-mobile integration, Wi-Fi or otherwise), will it require a change in behavior? Will you have to train users to access the new services? And if so, will they use it?

The best example of user interfaces here is corporate dial-around services. Many large enterprises have local access numbers so that workers can call in and access the corporate network for voicemail, directory services and long-distance calling. These access numbers can do quite a bit. Suppose you have a user traveling internationally in Europe. Now suppose that your company has a local access number in the country where the user is. All the user has to do is call the local access number to make and receive telephone calls on the corporate network. Doing this one thing could halve the cost of an international telephone call. Very few users take advantage of local access numbers because there are more digits to dial and more work overall.

The lesson here about the user interface is that we can provide our users with cost-saving measures and they still won't take advantage of them because of the complexity of adding to the user interface. In the end, it's simplest to dial a number on the keypad of a mobile telephone and press "talk." That's an effective user interface, and anything that deviates from the keypad and the talk button is going to lose users pretty quickly. The user interface is the reason we're spending so much for mobile telephony. It's also the reason we now care about dead spots on campus.

In the final part of this series, we'll review short, medium and long-term options for campus mobile telephony.

About the author: Daniel Taylor is managing director for the Mobile Enterprise Alliance, Inc. (MEA), and he is responsible for global alliance development, programs, marketing and member relations. He brings over fourteen years of high technology experience and is well known as a subject matter expert on many of the aspects of mobility, including wireless data networking, security, enterprise applications and communications services. Prior to the MEA, Dan held a number of product marketing and development positions in the communications industry.



Dig Deeper on Enterprise mobility strategy and policy
PRO+
Content
Find more PRO+ content and other member only offers, here.