News
Stay informed about the latest enterprise technology news and product updates.
Amazon Kindle Fire: Coming soon to an enterprise near you
The Amazon Kindle Fire is showing up in enterprises. Now, IT pros have to figure out the best way to integrate these new tablets into the desktop environment.
This Article Covers
RELATED TOPICS
Looking for something else?
Amazon sold an estimated five million Kindle Fire tablets during the holiday quarter. Now, Fire owners want to access corporate email and applications on their new Android devices.

Download this free guide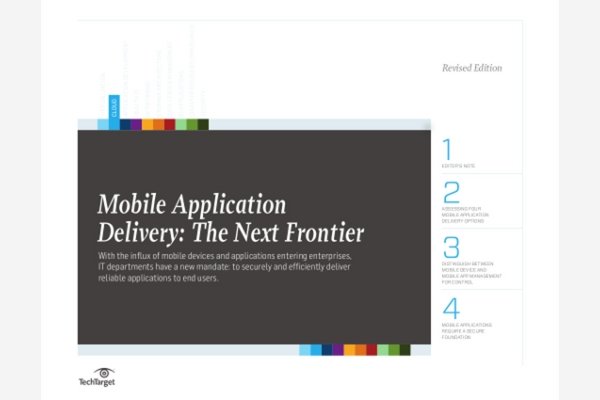 PDF: 17-Page Mobile Application Management Handbook
Experts provide best practices for mobile application delivery and management to help deal with the flood of mobile devices, new applications and data security demands.
By submitting your personal information, you agree that TechTarget and its partners may contact you regarding relevant content, products and special offers.
You also agree that your personal information may be transferred and processed in the United States, and that you have read and agree to the Terms of Use and the Privacy Policy.
The Apple iPad established the use case for tablets in the workplace. Not only do employees want to check email and browse the web, but they want to do light document editing or "anything where you can get in and out real quickly," said Steven Hughes, a clinical engineer at the Boston Veterans Administration.
The Kindle Fire can do all of those tasks, and if the device continues to grow in popularity among consumers, IT pros will have to support it along with the iPad.
The Kindle Fire's $200 price tag was a "magic price point" for massive consumer adoption on the level of the iPad, said Dave Sobel, an IT solutions provider based in Washington, D.C. Checking email was the initial gateway for the iPad's enterprise adoption and the same thing could happen with the Kindle this year or next, he said.
"I don't want to overblow it," Sobel said, "It's not like the iPad where all of a sudden everyone had one, but I'm noticing people bringing [the Kindle Fire] in and wanting to connect it to corporate email."
The Kindle Fire tablet runs on a forked version of Google's Android OS, but Amazon's consumer tablet has been modified to such a large degree that the two OSes bear little resemblance. That, and the price point, will benefit Amazon over the long haul, said Tony Cripps, a mobile analyst at Ovum, an independent technology analysis firm based in London.
Using the Kindle Fire in the enterprise
The Kindle Fire leverages Android's app developer community, without suffering from the Android fragmentation problem that makes enterprise device management and security "problematic," Cripps said.
"The question comes down to whether enterprise capabilities will be integrated into the device to use it," or whether Amazon will rely on third-party app developers, said Cripps.
But, the Kindle Fire has to have an email client to be an enterprise success, he said.
It has an email client, but because of licensing issues with Microsoft, it doesn't natively support the Exchange environment used by most businesses for email.
Be that as it may, there are third-party apps that make the Kindle Fire enterprise-friendly, and the devices have "95% of the capabilities of any other Android tablet or phone," said Jonathan Dale, director of product marketing for Fiberlink, a Blue Bell, Penn. mobile device management company..
One thing the Kindle Fire can't do is offer location tracking since the device has no GPS or 3G cellular ability, Dale said. Otherwise, in a BYOD environment, there are plenty of solutions for managing and securing the Kindle Fire, while also providing users what they need.
VMware's View Client for tablets was recently released for the Kindle Fire, as was the Splashtop Remote Desktop. Both apps let Fire users remotely access PCs and Macs as if the desktop OS was running on a seven-inch tablet.
The large majority of tablet users, however, simply want to check corporate email, and there's an app to do that. TouchDown is an ActiveSync client allowing users a desktop-like view of corporate email, contacts, calendar and tasks.
But IT should only support the Fire after internally testing to confirm that their applications work on it and that it's secure, said Ben Schorr, an IT consultant with Roland Schorr & Tower, an IT management firm based in Honolulu, Hawaii.
He said there are privacy and security concerns centered on Amazon's Silk Browser, which loads some Web page elements on Amazon's servers. Instead of the browser connecting directly to the target Web page, Amazon's servers act as a middle-man. Another problem is its reliance on Android as the OS's foundation, which opens the question of which apps will or won't work the device and unforeseen "other quirks that will emerge," he said
"Right about the time you're ready to sign off on [beta testing] Amazon will probably release a firmware update and you'll be back to square one. Such is the nature of mobile devices these days," Schorr added. "If I were an enterprise IT director my inclination would be to try and restrict the Fire to email and basic browsing."
Let us know what you think about the story; email James Furbush or follow @slyoyster on Twitter
Dig Deeper on Wearable devices and emerging technology
PRO+
Content
Find more PRO+ content and other member only offers, here.