Evaluate
Weigh the pros and cons of technologies, products and projects you are considering.
The top EMM providers and how they would serve your company
With all the EMM providers available, companies must know their main needs to choose the best option. Read about the important functions of EMM and how the top tools address them.
There is no single EMM provider that can effectively give all that an enterprise needs in just one product suite. Companies must first understand their own needs, and then consider the best options to address those needs.

Download this free guide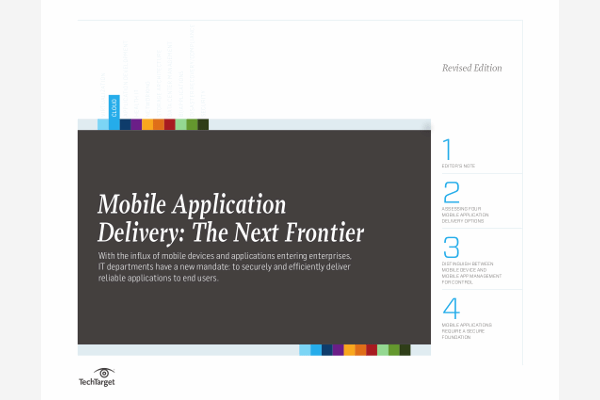 Download Our 17-Page Mobile Application Management Handbook
Experts provide best practices for mobile application delivery and management to help deal with the flood of mobile devices, new applications and data security demands.
By submitting your personal information, you agree that TechTarget and its partners may contact you regarding relevant content, products and special offers.
You also agree that your personal information may be transferred and processed in the United States, and that you have read and agree to the Terms of Use and the Privacy Policy.
Policy management
A foundational aspect of enterprise mobility management (EMM) is policy enforcement, which enables an IT admin to wipe a stolen device; remotely disable features on a phone, such as a camera; or enforce features, such as the number of users' password attempts. Policy management will meet the needs of many companies that are looking to implement a simple BYOD or corporate-owned and personally enabled program.
The leading EMM provider in policy management for remote devices is Microsoft. The Exchange Server and Office 365 suite of tools that Microsoft offers are both easy services for admins to manage for simple device policy enforcement, like remote wipe. Currently, there is a limit of 10 devices per account for each ActiveSync account.
Google Apps for Work also offers easy-to-implement policy management. Both Microsoft and Google tools are good for companies that have either a small number of devices or are new to device management, because they are simple products that require little instruction for admins to create a secure environment.
Mobile device management
An environment that provides inventory of devices, OS configuration management and remote wipe also requires mobile device management (MDM) tools. Over the last three years, there has been a considerable amount of consolidation in the market, with companies purchasing independent MDM vendors.
The leading independent EMM provider is MobileIron. Its strength is a combination of good on-premises software and the ability to stay up to date with rapid changes in the mobile market. For instance, MobileIron has the most comprehensive support for Google's Android for Work enterprise management tool for Android Marshmallow and even newer devices.
A weakness of MobileIron is its cloud service. VMware's AirWatch is arguably the better product for companies requiring a cloud service for MDM. An alternative to VMware is IBM's MaaS360. All three vendors are currently leapfrogging each other between releases. The result is the products quickly mature. Expect to pay from $75 to $100 per year for each MDM account per vendor.
An exception to standard MDM is found in schools that managed hundreds of iPads. Schools deploying iPads may want to consider utilizing Apple's own extensions in iOS that now allow for students to share a single device.
Authentication: SSO and IDaaS
There are two effective ways to authenticate a user from a mobile device: single sign-on (SSO) or identity as a service (IDaaS).
The foundation for many SSO programs is Microsoft's Active Directory authentication. It requires a virtual private network for mobile single sign-on. Cisco's AnyConnect is the leading VPN client for iOS-powered devices, but the required authentication combination of VPN, user ID and password is complicated for users.
A more useful model is IDaaS, an authentication structure that is built, hosted and managed by a third-party EMM provider. It is not cheap and should have benefits outside of EMM. With that said, leaders in the market -- Okta, Microsoft and Centrify -- are at the top because their products are easy to implement, provide new multifactor authentication and can integrate into web, mobile and desktop platforms. Google Apps for Work come with IDaaS services included.
If an enterprise requires tight security, then BlackBerry is still a very good choice. Organizations will want to focus on Blackberry BES services and the recent acquisition of Good Technology.
Application development
There are three different delivery models for enterprise app development: web app, hybrid and native.
Admins use HTML5 to build web apps, and the development approach is the same as traditional websites. The challenge is to ensure the code will display correctly on the different-sized devices. A conventional method of addressing this issue is to use responsive web frameworks, such as Bootstrap, AngularJS, ReactJS, SproutCore and jQuery Mobile. Each of these frameworks is free to use. Admins should select one and standardize it to manage development costs.
Hybrid apps come in two types: HTML5 apps that are wrapped in a native container, such as Apache Cordova, and mobile application development tools that use a conventional programming language to build cross-platform capabilities, such as C# for Xamarin. Cordova and Xamarin are the leaders for cross-platform application development and both are free. The hybrid delivery model is a good way to prototype an app quickly. Cordova does have performance issues for large-scale platforms.
For companies that are looking to deploy apps to a large number of devices, then the most efficient method is to code apps with the languages and tools Apple and Google recommend. The development software suite, known as an integrated development environment (IDE), provides development teams with the testing, code management and consistent model for building mobile apps for iPhones and Android devices. Apple's iOS uses Xcode, and Google's Android uses Android Studio. Both IDEs are free.
Most of these core tools are either free or inexpensive. To make a final decision, though, enterprises must understand the skill set of the current development team and match this skill set with the appropriate model.
Continuous integration and version control management
Continuous integration and version control for mobile apps is not so different from traditional app development. Tools such as Atlassian's Bitbucket, GitHub and Microsoft's Team Foundation Service or Visual Studio Online can all manage version control for apps. Newer companies may want to utilize Bitbucket as a cheaper tool.
Continuous integration tools, such as Jenkins, are open source and will meet the needs of most development teams.
There is a clear, common goal for developers: Utilize open source tools. Open source tools can construct the full mobile delivery environment for your EMM system.
Statistics, analytics and reporting
Enterprises must measure their EMM tools in order to measure success. Fortunately, many of the tools listed above come with their own dashboards and reporting tools. A single, centralized reporting tool is not yet available for EMM platforms, since EMM is still a growing concept. Because of its maturity level, admins may need to juggle between MDM, mobile analytics, authentication reports and continuous integration reports to validate the work of the EMM system.
Implementing any EMM provider in today's rapidly changing digital world must address increasingly broad demands that go beyond mobile phones and tablets. Endpoints, which include PCs, internet of things, as well as mobile devices, continue to fall in price. The challenge is to adopt technologies that build on top of security and support the digital needs of your employees.
PRO+
Content
Find more PRO+ content and other member only offers, here.