Evaluate
Weigh the pros and cons of technologies, products and projects you are considering.
Key factors to consider when making an EMM software purchase
Enterprises must look at many organizational factors when purchasing EMM software. Learn the most important decision points in choosing the best EMM platform for any enterprise.
The process of implementing enterprise mobile management software requires admins to make many important decisions, mostly pertaining to the different components that comprise an EMM plan. The most important factors to consider are the choice between a BYOD versus Corporate Owned, Personally Enabled policy, security needs, content management and the need for Unified Endpoint Management.

Download this free guide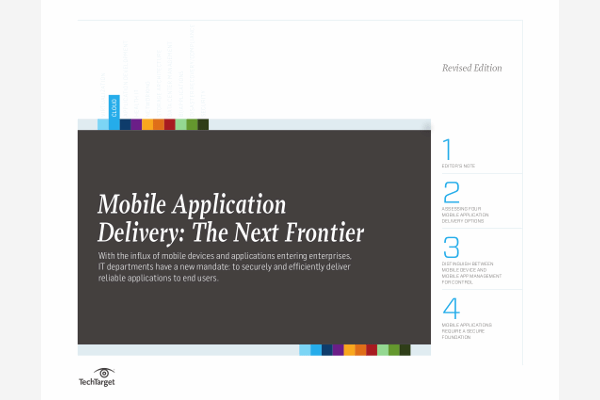 Download Our 17-Page Mobile Application Management Handbook
Experts provide best practices for mobile application delivery and management to help deal with the flood of mobile devices, new applications and data security demands.
By submitting your personal information, you agree that TechTarget and its partners may contact you regarding relevant content, products and special offers.
You also agree that your personal information may be transferred and processed in the United States, and that you have read and agree to the Terms of Use and the Privacy Policy.
BYOD versus COPE devices
The first step in implementing EMM software is to decide on a policy supporting either BYOD or COPE devices, but administrators must have a plan for device management before they implement either a BYOD or COPE program.
COPE requires an admin to install profiles from a mobile device management (MDM) server onto the phone or tablet. There is a tighter level of control in this implementation. MDM services come packaged with the ability to control the device -- such as camera, lock screen enforcement and the number of password attempts -- and push out apps and settings, such as email. For iOS powered devices, users cannot blacklist apps. Apple puts this restriction in place, giving end users the freedom to install any app. An administrator will, however, be able to see every app installed, whereas Android will allow blacklisting.
The process for supporting BYOD is slightly different. For instance, standard features with COPE include email and PIM services. BYOD also provides the ability to control a device with policy enforcement. It is recommended to look for services to manage BYOD devices that enable a clear separation of personal and professional data.
The separation of personal and vocational data is a notable challenge for an EMM suite. Apple makes it particularly tough for companies to split personal and private data. Methods to approach this problem include:
Provide minimal policy management for BYOD devices;
Move all services and apps to the Cloud -- such as Google Apps or Microsoft Office 365; and
Encapsulate enterprise apps.
Networking requirements and/or remote access needs
There are three big networking-related questions that enterprises face when selecting EMM software.
How effective is the existing WiFi network?
How does the company accommodate remote employees?
In using, the 80/20 rule, how much of the 20% exception use cases should affect the company's decision process?
When employees connect their devices to a corporate network, it increases the demand on the network. For instance, almost all users in a company will voluntarily upgrade their phones every September when Apple releases the new iOS. Each version comes in around 1 gigabyte and will inevitably put a strain on any network.
Companies must take into account that mobile devices and cloud services are easily corruptible. The function of the phone or tablet is to view data, but good mobile security practice is to move the data off the device as quickly as possible. The movement of data between the cloud and device is a challenge facing any network.
Enterprises must also choose EMM software that can manage the increase in employee devices. Many users carry two or more devices such as a smartphone, tablet or smartwatch in addition to a laptop. Users will connect their devices to the network, so it is worth completing a wireless network assessment before buyers select EMM software.
Companies looking to provide access to enterprise data should first check email services from outside of the company network and determine whether their content is accessible or not. Allowing access to content provides more opportunity for users to get work done. The chosen method for content control will have an impact on the level of security you will need to apply. VPN with single sign-on or identity as a service are two of the security options available.
Buyers must also take into account whether or not devices should be restricted to a particular location such as a warehouse. Admins should consider what will happen to a tablet if it is removed from a warehouse -- will the tablet automatically wipe itself? If so, how far from the location will the wipe happen? The EMM suite a company selects will control these features.
UEM capabilities
The line between managing PCs and mobile devices continues to blur. A reflection of this blurring line is the inclusion of UEM (Unified Endpoint Management). UEM is an approach to secure and control PCs, smartphones and tablets from one single console. The goal of UEM is to control the ever-increasing number of devices connecting to the network. Considerations for buying UEM software should include the following:
Does the UEM support Windows, Android and iOS?
Is there support for server OS such as Linux?
How mature is the UEM product or is it simply a collection of products stitched together?
To be clear, the UEM market is still relatively new so be sure to consult with current users when evaluating a product.
Extensiveness
A good EMM software suite contains not just one tool, but rather a collection of tools. The hardware market is moving through a period of massive growth and change. With that in mind, companies must ensure that its selected EMM suite is capable of supporting new technologies as they become available such as:
Advances in smartphones and tablets
Wearable devices
Enhanced printers
Smart displays/TVs
Smart logistics
IoT
Conclusion
Many companies see EMM software as a commodity. To that effect, several software companies are now bundling EMM-like services into other core products. Prior to any decisions, buyers should make note of their company characteristics such as their required level of security and use these factors to narrow down the list of vendors to choose from.
PRO+
Content
Find more PRO+ content and other member only offers, here.