ultra-mobile personal computer (UMPC or Ultra-mobile PC)
Ultra-mobile PC (UMPC) is a design specification for a hand-held computer that is larger than a PDA but smaller than a laptop. (Continued...)
Looking for something else?
What is a UMPC?
Download: IT Acronyms - A Quick Reference Guide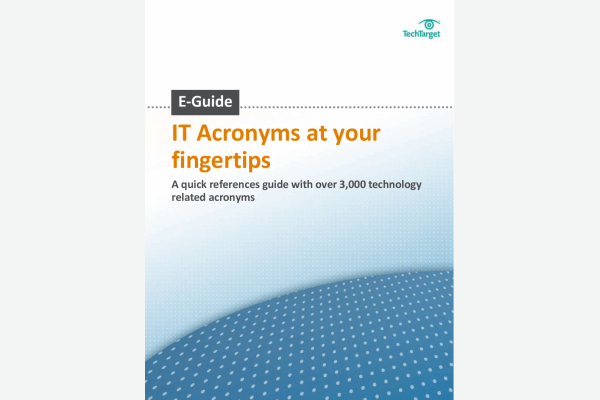 Download this free quick reference guide with over 3,000 IT acronyms; including a special section of the top 15 acronyms you need to know today.
By submitting your personal information, you agree to receive emails regarding relevant products and special offers from TechTarget and its partners. You also agree that your personal information may be transferred and processed in the United States, and that you have read and agree to the Terms of Use and the Privacy Policy.

Ultra-mobile PC (UMPC) is a hand-held computing device capable of running a Windows operating system. A UMPC is larger than a personal digital assistant (PDA) but smaller than a laptop. Microsoft and Intel created a design specification for the UMPC in a project called Origami.
According to Microsoft, although the exact specifications may vary by manufacturer, the baseline specifications for an ultra-mobile PC are as follows:
Screen size: 5-7 inches.
Screen resolution: minimum 800 × 480 resolution.
Weight: less than 2 pounds.
Display orientation: landscape or portrait.
Input methods: Touch screen or stylus.
Operating system: Windows Vista Home Premium, Windows Vista Enterprise, Windows Vista Business, or Windows Vista Ultimate.
Battery life: 2.5 hours or more.
Processor: Intel Celeron M, Intel Pentium M, or VIA C7-M.
Storage: 30 gigabyte hard disk drive or larger.
Because design specifications often overlap for hand-held computing devices, a UMPC might also be referred to in marketing literature by a variety of names including subnotebook, ultraportable, mini-laptop, MID or mini-notebook.
Continue Reading About ultra-mobile personal computer (UMPC or Ultra-mobile PC)
Glossary
'ultra-mobile personal computer (UMPC or Ultra-mobile PC)' is part of the:
View All Definitions