searching
On the Internet, searching is just trying to find the information you need. (Continued...)
Looking for something else?
TECHNOLOGIES
On the Internet, searching is just trying to find the information you need. There are three basic approaches:
A Comprehensive Roadmap to BYOD Governance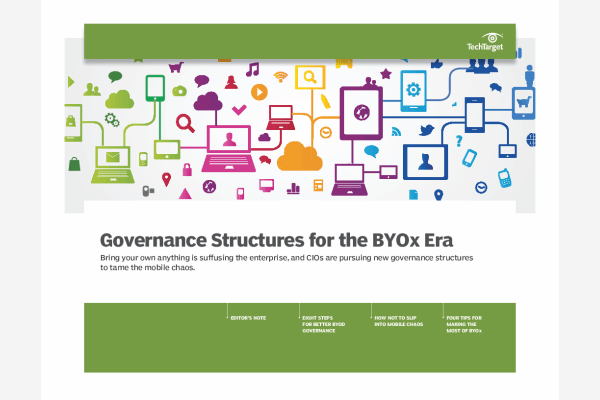 Establishing a long-term plan for maintaining control of IT and end-users is critical in today's evolving workplace. This comprehensive guide details the steps necessary for establishing and maintaining safe and effective mobile BYOD practices - from the procurement-stage through to policy and governance.
By submitting your personal information, you agree to receive emails regarding relevant products and special offers from TechTarget and its partners. You also agree that your personal information may be transferred and processed in the United States, and that you have read and agree to the Terms of Use and the Privacy Policy.

The subject directory. These can be general and cover all subjects (as Yahoo does) or specialized (like the information technology sites at searchWindowsManageability and other TechTarget sites).
The search engine. These can be general and attempt to index all or most of the Web's pages (like Google or FAST), or specialized and search within a narrow range of subjects.
The so-called deep Web - that is, the Web sites that have information that can't be indexed by the search engines but can in many cases by searched directly at the individual Web site.
At whatis.com and other TechTarget sites, we spend a lot of time searching and the in-house expert we consult is Laura Hunt. Her best sources about how and where to search are listed here: