real-time location system (RTLS)
A real-time location system (RTLS) is one of a number of technologies used to pinpoint the current geographic position and location of a target.
Looking for something else?
What is a real-time location system?
Juggling BYOD Benefits and Burdens of Management in the Enterprise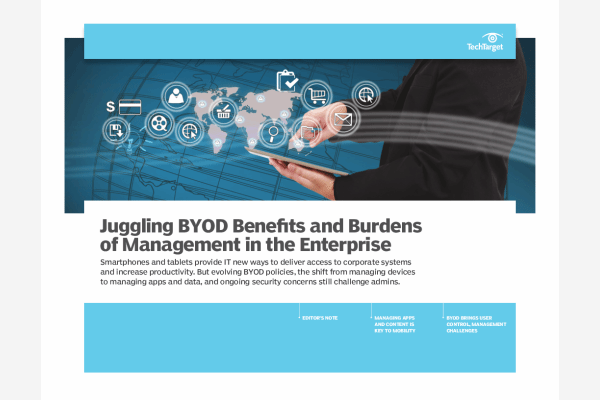 Experts explore the positive aspects of devices in the enterprise and address the challenges of managing more endpoints, facing security risks, and enforcing usage policies.
By submitting your personal information, you agree to receive emails regarding relevant products and special offers from TechTarget and its partners. You also agree that your personal information may be transferred and processed in the United States, and that you have read and agree to the Terms of Use and the Privacy Policy.

A real-time location system (RTLS) is one of a number of technologies that detects the current geolocation of a target, which may be anything from a vehicle to an item in a manufacturing plant to a person. RTLS-capable products are used in an ever-increasing number of sectors including supply chain management (SCM), health care, the military, retail, recreation, and postal and courier services.
RTLS is typically embedded in a product, such as a mobile phone or a navigational system. Most such systems consist of wireless nodes -- typically tags or badges -- that emit signals and readers that receive those signals. Current real-time location systems are based on wireless technologies, such as Wi-Fi, Bluetooth, ultrawideband, RFID, and GPS.
RTLS applications include:
Fleet tracking: Fleet-tracking RTLS systems make it possible for an enterprise to track vehicle location and speed, optimize routes, schedule jobs, aid navigation and analyze driver efficiency.
Navigation: The most basic navigation services provide directions for how to get from Point A to Point B. Incorporating GPS, mapping and mobile cellular technology will enable more complex navigation services.
Inventory and asset tracking: RFID technologies are widely used for asset and inventory tracking. RFID tags communicate wirelessly with RFID readers throughout the enterprise.
Personnel tracking: Different technologies are used for on-site personnel and workers in the field. Systems that track field workers are typically GPS-enabled mobile phones. On-site personnel tracking systems often use RFID technology, such as RFID-enabled badges.
Network security: Wi-Fi Protected Access (WPA) can limit the physical area from which a user can connect to restrict access based on the user's location.
See also: location-based service (LBS)
Learn More About IT:
> Wikipedia includes more information about RTLS and related technologies.
> The RTLS blog includes industry-specific news and research related to real-time location systems.
> Shamus McGillicuddy writes about 'Wi-Fi RTLS for WLAN management, location-based security, asset tracking.'
> Linda Tucci explains how 'GPS devices, geolocation data create privacy, security risks.'
Continue Reading About real-time location system (RTLS)
PRO+
Content
Find more PRO+ content and other member only offers, here.