radio charging
Radio charging is a wireless charging method used to charge items with small batteries and low power requirements, such as watches, hearing aids and wireless keyboards and mice... (Continued)
Looking for something else?
Radio charging is a wireless charging method used to charge items with small batteries and low power requirements, such as watches, hearing aids, medical implants, cell phones and wireless keyboards and mice.
Juggling BYOD Benefits and Burdens of Management in the Enterprise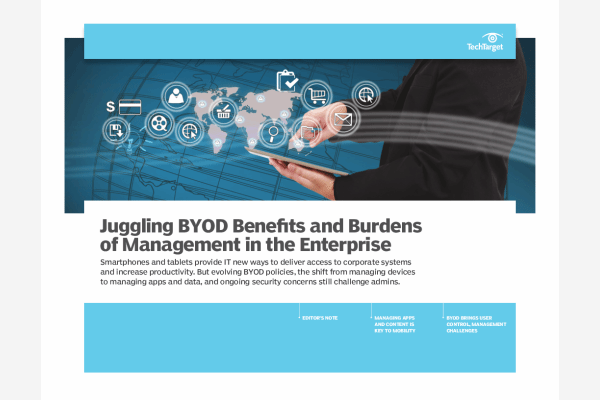 Experts explore the positive aspects of devices in the enterprise and address the challenges of managing more endpoints, facing security risks, and enforcing usage policies.
By submitting your personal information, you agree to receive emails regarding relevant products and special offers from TechTarget and its partners. You also agree that your personal information may be transferred and processed in the United States, and that you have read and agree to the Terms of Use and the Privacy Policy.

Radio waves are already in use to transmit and receive cellular telephone, television, radio and Wi-Fi signals. They work similarly for electrical transmission. A radio wave, once transmitted, propogates in all directions until it reaches an antenna tuned to the proper frequency to receive it.
Here's one example of how that capacity is used for radio charging:
A company called Powercast has devised two units used to transmit and receive radio waves for energy. The transmitter, called the "Powercaster," sends a low-power radio wave at a fixed frequency. The receiver, called the "Powerharvester" can be affixed to any low-power device. When the Powerharvester is set to the same frequency as the Powercaster, it will power the device and will charge the unit's battery.
Radio charging is only effective for small devices. The battery of a laptop computer, for example, requires more power than radio waves can deliver. The range also limits the effectiveness of radio charging, which works on the same principle as an AM/FM radio does: The closer the receiver is to the transmitter, the better reception will be. In the case of wireless radio charging, better reception translates to a stronger charge for the item.
See also: inductive charging, resonance charging
Continue Reading About radio charging
PRO+
Content
Find more PRO+ content and other member only offers, here.