push voice
Push Voice is a service that enables functionality normally associated with PBX-based phone systems for cellular phones or other mobile handsets... (Continued)
Push Voice is a service that enables functionality normally associated with PBX-based phone systems for cellular phones or other mobile handsets. This capacity helps to integrate mobile handsets with corporate communications systems.
A Comprehensive Roadmap to BYOD Governance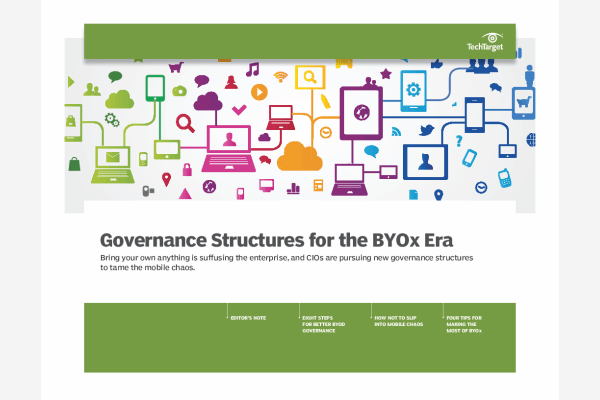 Establishing a long-term plan for maintaining control of IT and end-users is critical in today's evolving workplace. This comprehensive guide details the steps necessary for establishing and maintaining safe and effective mobile BYOD practices - from the procurement-stage through to policy and governance.
By submitting your personal information, you agree to receive emails regarding relevant products and special offers from TechTarget and its partners. You also agree that your personal information may be transferred and processed in the United States, and that you have read and agree to the Terms of Use and the Privacy Policy.

Added functions may include:
multiple voice mail message types and handling
speed dialing, possibly with access to a shared, organizational phone directory
call flows
conferencing
rich voice mail communications
unified communications, enabling (for example) voice capability for email
direct dial into corporate call centers
tracking for cost monitoring, audit and compliance records
immediate use of company extensions and phone numbers
use of leased lines and negotiated calling rates.
According to Jack Gold, founder of J.Gold Associates, a Northborough, Mass.-based research and advisory firm, roughly 75% of enterprise workers are mobile at least 25% of the time. "Most communications in business today are still via phone, especially with a mobile device," Gold said.
Continue Reading About push voice