mobile-to-mobile convergence (MMC)
Mobile-to-mobile convergence (MMC) is a technology that facilitates the interoperability of mobile communications devices without the need for any fixed capabilities or proprietary service provider... (Continued)
Looking for something else?
Mobile-to-mobile convergence (MMC) is a technology that facilitates the interoperability of mobile communications devices without the need for any fixed capabilities or proprietary service provider. In MMC, a single cellular telephone, smartphone or softphone-equipped device can switch automatically between Wi-Fi and cellular networks.
Juggling BYOD Benefits and Burdens of Management in the Enterprise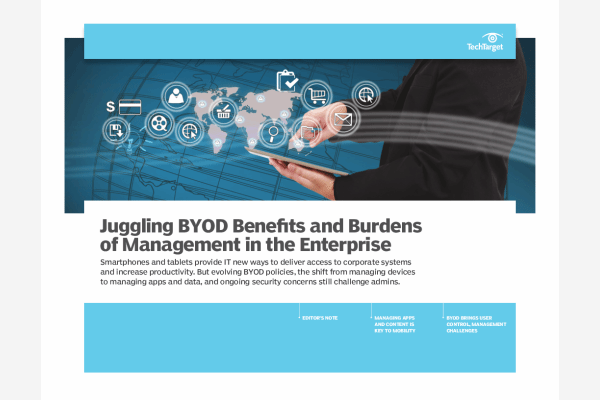 Experts explore the positive aspects of devices in the enterprise and address the challenges of managing more endpoints, facing security risks, and enforcing usage policies.
By submitting your personal information, you agree to receive emails regarding relevant products and special offers from TechTarget and its partners. You also agree that your personal information may be transferred and processed in the United States, and that you have read and agree to the Terms of Use and the Privacy Policy.

Mobile-to-mobile convergence offers an alternative to conventional cellular and wireless solutions. A network incorporating MMC offers features such as:
Functionality with the existing private branch exchange (PBX)
Interoperability with a wide-area network (WAN)
Support of dual-mode devices
Ability to maintain control in a workforce that employs mobile devices exclusively
Seamless roaming among Wi-Fi and cellular networks
Mobile-to-mobile convergence differs from fixed-mobile convergence (FMC) in which a specific service provider is employed to enable seamless handoff between Wi-Fi and cellular systems. The first practical MMC solution was developed and made widely available by DiVitas Networks, based in Mountain View, California.
Continue Reading About mobile-to-mobile convergence (MMC)
PRO+
Content
Find more PRO+ content and other member only offers, here.