Essential Guide
Enterprise architects' guide to success with mobile apps for business
A comprehensive collection of articles, videos and more, hand-picked by our editors
mobile application development platform
A mobile application development platform (MADP) is software that allows for the building and testing of computer programs for smartphones and tablets.
FROM THE ESSENTIAL GUIDE:
A mobile application development platform (MADP) is a type of software that allows a business to rapidly build, test and perhaps deploy mobile apps for smartphone or tablets.
Juggling BYOD Benefits and Burdens of Management in the Enterprise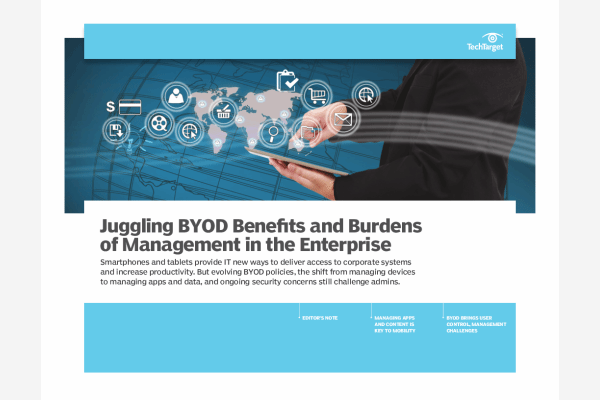 Experts explore the positive aspects of devices in the enterprise and address the challenges of managing more endpoints, facing security risks, and enforcing usage policies.
By submitting your personal information, you agree to receive emails regarding relevant products and special offers from TechTarget and its partners. You also agree that your personal information may be transferred and processed in the United States, and that you have read and agree to the Terms of Use and the Privacy Policy.

A business can either build its own mobile application development platform or buy one of the many third-party products available on the market. The MADPs that third-party vendors sell typically include features such as mobile Backend as a Service (BaaS) and management tools for application programming interfaces (APIs). A MADP may also provide native, Web and hybrid app development capabilities as well as mobile application management (MAM) tools for deploying and securing apps.
The term MADP is generally credited to the research firm, Gartner. It seems to have replaced two other terms introduced by Gartner, Mobile Enterprise Application Platform (MEAP) and Mobile Consumer Application Platform (MCAP).
Continue Reading About mobile application development platform
PRO+
Content
Find more PRO+ content and other member only offers, here.