mobile Backend as a Service (mobile BaaS)
Mobile Backend as a Service, also known simply as Backend as a Service (BaaS), is a computing architecture that connects mobile applications to cloud computing services.
Looking for something else?
TECHNOLOGIES
Mobile Backend as a Service (MBaaS) is a computing architecture that provides access to the servers, storage, databases and other resources that support a mobile application.
Juggling BYOD Benefits and Burdens of Management in the Enterprise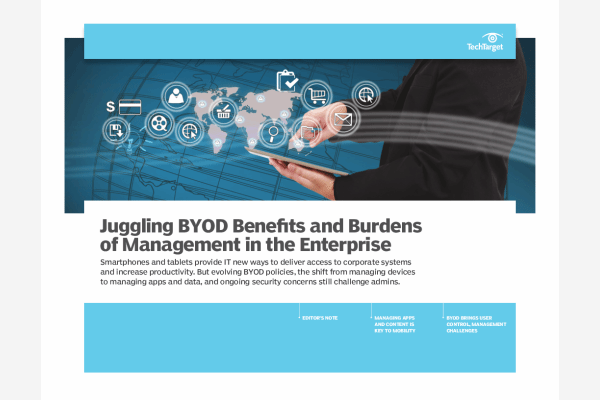 Experts explore the positive aspects of devices in the enterprise and address the challenges of managing more endpoints, facing security risks, and enforcing usage policies.
By submitting your personal information, you agree to receive emails regarding relevant products and special offers from TechTarget and its partners. You also agree that your personal information may be transferred and processed in the United States, and that you have read and agree to the Terms of Use and the Privacy Policy.

An alternative to mobile middleware, a BaaS approach uses unified application programming interfaces (APIs) and software developer's kits (SDKs) to connect mobile apps to backend resources in the cloud. MBaaS can also be used to federate backend services and provide common backend features such as push notifications, social networking integration and location services. This is a departure from typical mobile application development, which requires developers to incorporate the APIs of each backend service individually.
MBaaS empowers mobile developers by completely abstracting the server-side infrastructure. Developers can assemble the required building blocks and just write the code that connects them. This lets developers focus on delivering rich user experiences instead of dealing with mundane backend infrastructure.
Continue Reading About mobile Backend as a Service (mobile BaaS)
PRO+
Content
Find more PRO+ content and other member only offers, here.
Margaret Rouse asks:

Are mobile backend services going to replace mobile enterprise application platforms?