microblogging
Microblogging is a web service that allows the subscriber to broadcast short messages to other subscribers of the service. (Continued)
Looking for something else?
TECHNOLOGIES
Microblogging is a web service that allows the subscriber to broadcast short messages to other subscribers of the service. Microposts can be made public on a Web site and/or distributed to a private group of subscribers. Subscribers can read microblog posts online or request that updates be delivered in real time to their desktop as an instant message or sent to a mobile device as an SMS text message.
A Comprehensive Roadmap to BYOD Governance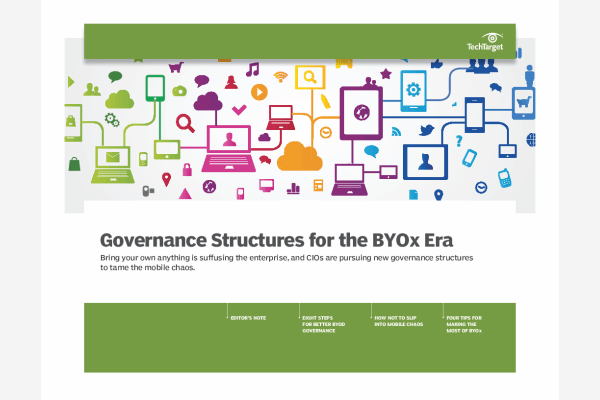 Establishing a long-term plan for maintaining control of IT and end-users is critical in today's evolving workplace. This comprehensive guide details the steps necessary for establishing and maintaining safe and effective mobile BYOD practices - from the procurement-stage through to policy and governance.
By submitting your personal information, you agree to receive emails regarding relevant products and special offers from TechTarget and its partners. You also agree that your personal information may be transferred and processed in the United States, and that you have read and agree to the Terms of Use and the Privacy Policy.

The appeal of microblogging is both its immediacy and portability. Posts are brief (typically 140 – 200 characters) and can be written or received with a variety of computing devices, including cell phones. Although most microblog broadcasts are posted as text, some microblogging services allow video or audio posts.
Microblogging is slowly moving into the mainstream. In the United States, for example, Presidential candidate Barack Obama microblogged from the campaign trail using Twitter, one of the most popular microblogging services. Traditional media organizations, including The New York Times and the BBC, have begun to send headlines and links in microblog posts. Other potential applications of microblogging include traffic and sports updates and emergency broadcast systems.
Continue Reading About microblogging