The iPad is a 9.7 inch touch screen tablet PC made by Apple . The iPad is basically a netbook without a keyboard. It has a multi-touch LED-backlit 9.7 x 7.5 inch front display and weighs 1.5 pounds, with a battery that lasts up to ten hours.
How-to guide for managing Macs in a PC world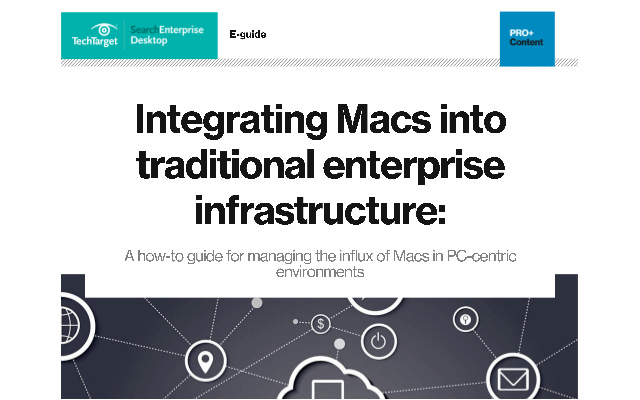 There has recently been a huge influx of Macs in enterprises, meaning IT pros must rethink their traditional OS strategies. This exclusive 22-page guide walks you through the imperative strategies, tools, and techniques you need to master in order to adeptly manage Macs in your enterprise.
By submitting your email address, you agree to receive emails regarding relevant topic offers from TechTarget and its partners. You can withdraw your consent at any time. Contact TechTarget at 275 Grove Street, Newton, MA.
You also agree that your personal information may be transferred and processed in the United States, and that you have read and agree to the Terms of Use and the Privacy Policy.

The iPad is available with 16, 32 and 64 GB flash drive options. All varieties come with Wi-Fi Internet access; for a higher price, the consumer can purchase an iPad 3G to get Internet access through AT&T's network.
The iPad, which uses Apple's mobile operating system (iOS) combines the computing power of a laptop or desktop computer with the portability of a smartphone. iPad users can surf the internet with Safari, Apple's web browser, receive and send email messages, share photos and slideshows, watch videos on YouTube and listen to music on iTunes. In addition to the standard features, Apple also offers an app store with thousands of free and paid apps with functions ranging from games and entertainment to business and education.
Apple sells a number of accessories for the iPad that increase its functionality and ease of use, including cases to protect the tablet, stands to facilitate non-mobile use of the computer and external keyboards for easier typing.
Apple is rumored to be releasing the iPad 2 in April 2011.
Read more:
TabletPCReview.com's review of the iPad 2
Rumors surrounding the release and features of the iPad 2
TabletPCReview.com's review of Apple's iOS 4.2
TabletPCReview.com's review of the iPad
Continue Reading About iPad
PRO+
Content
Find more PRO+ content and other member only offers, here.