Essential Guide
Enterprise mobile security smackdown: iOS vs. Android vs. Windows
A comprehensive collection of articles, videos and more, hand-picked by our editors
Windows Phone 7
Windows Phone 7 is a Microsoft operating system for smartphones.
FROM THE ESSENTIAL GUIDE:
Windows Phone 7 is a Microsoft operating system for smartphones.
Juggling BYOD Benefits and Burdens of Management in the Enterprise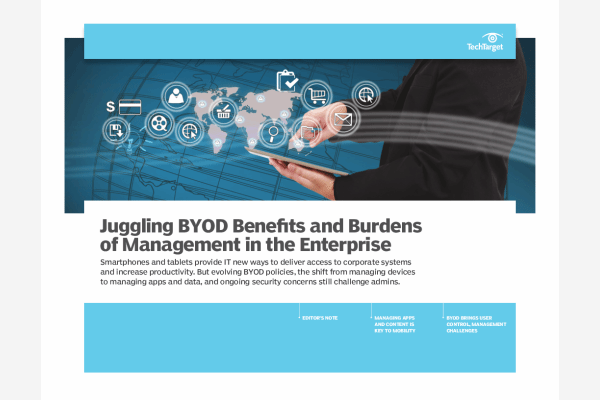 Experts explore the positive aspects of devices in the enterprise and address the challenges of managing more endpoints, facing security risks, and enforcing usage policies.
By submitting your personal information, you agree to receive emails regarding relevant products and special offers from TechTarget and its partners. You also agree that your personal information may be transferred and processed in the United States, and that you have read and agree to the Terms of Use and the Privacy Policy.

Windows Phone 7 competes mainly with Apple's iOS and Google's Android in the smartphone market. IT pros can use Windows Phone 7 devices for personal or work use, because they integrate with Microsoft Exchange, SharePoint, Lync and Office 365. Windows Phone 7 uses Outlook Mobile for email access and supports several major email services.
Microsoft Windows Phone 7 has a unique user interface composed of tiles. These tiles update in real time and link to Windows Phone 7 apps, features and other device functions. Windows Phone 7 also includes a virtual keyboard, thread messaging, the Internet Explorer Web browser, voice-recognition software and the Bing search engine. For searching and downloading apps, music, videos and podcasts, users can go to the Windows Phone 7 marketplace.
The Hub feature on Windows Phone 7 organizes personal and online content from social media, contacts, photos and more into groups. The People Hub, for instance, allows users to import contacts from Facebook, Twitter or other networks and view their photos from those social media services. The Games Hub provides access to free Xbox LIVE, and an entertainment Hub lets users listen to music and videos.
The Microsoft Windows Phone 7 price depends on the user's wireless service provider, the mobile device hardware and features.
Continue Reading About Windows Phone 7
PRO+
Content
Find more PRO+ content and other member only offers, here.