WiDEN (Wideband Integrated Digital Enhanced Network)
WiDEN (Wideband Integrated Digital Enhanced Network) is an upgraded version of iDEN (Integrated Digital Enhanced Network), a wireless communications technology originally developed by Motorola in 1993 and deployed by Nextel in 1996 to combine the capabilities of digital cellular telephone, two-way radio, alphanumeric pager and data/fax modem in a single network... (Continued)
Looking for something else?
WiDEN (Wideband Integrated Digital Enhanced Network) is an upgraded version of iDEN (Integrated Digital Enhanced Network), a wireless communications technology originally developed by Motorola in 1993 and deployed by Nextel in 1996 to combine the capabilities of digital cellular telephone, two-way radio, alphanumeric pager and data/fax modem in a single network.
Juggling BYOD Benefits and Burdens of Management in the Enterprise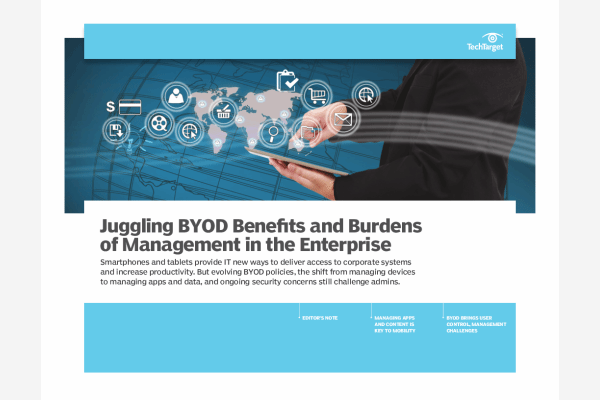 Experts explore the positive aspects of devices in the enterprise and address the challenges of managing more endpoints, facing security risks, and enforcing usage policies.
By submitting your personal information, you agree to receive emails regarding relevant products and special offers from TechTarget and its partners. You also agree that your personal information may be transferred and processed in the United States, and that you have read and agree to the Terms of Use and the Privacy Policy.

WiDEN offers four times the bandwidth of conventional iDEN technology and is available in most locations served by the Nextel network. The purpose of iDEN and WiDEN are to give mobile communications users convenient access to information without having to carry multiple devices.
Continue Reading About WiDEN (Wideband Integrated Digital Enhanced Network)
PRO+
Content
Find more PRO+ content and other member only offers, here.