Wi-Fi
Wi-Fi is the popular term for a high-frequency wireless local area network (WLAN) technology and standard that has gained acceptance in many companies as an alternative to a wired LAN...(continued)
Looking for something else?
Wi-Fi is a term for certain types of wireless local area networks (WLAN) that use specifications in the 802.11 family. Products that pass the Wi-Fi Alliance tests for interoperability, security and application-specific protocols are labeled "Wi-Fi CERTIFIED," a registered trademark of the Alliance.
Juggling BYOD Benefits and Burdens of Management in the Enterprise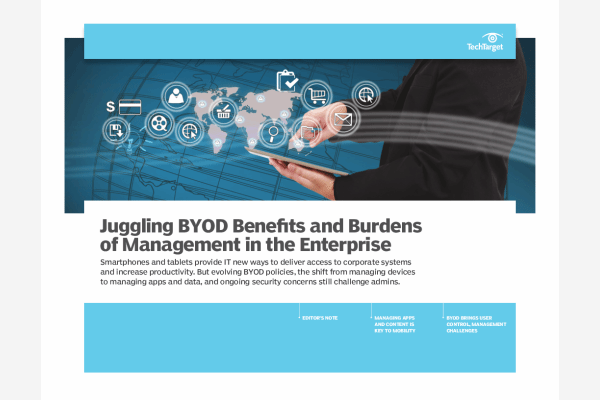 Experts explore the positive aspects of devices in the enterprise and address the challenges of managing more endpoints, facing security risks, and enforcing usage policies.
By submitting your personal information, you agree to receive emails regarding relevant products and special offers from TechTarget and its partners. You also agree that your personal information may be transferred and processed in the United States, and that you have read and agree to the Terms of Use and the Privacy Policy.

Originally, Wi-Fi certification was applicable only to products using the 802.11b standard. Today, Wi-Fi can apply to products that use any 802.11 standard. The 802.11 specifications are part of an evolving set of wireless network standards known as the 802.11 family. The particular specification under which a Wi-Fi network operates is called the "flavor" of the network.
Wi-Fi is widely used in businesses, agencies, schools, and homes as an alternative to a wired LAN. Many airports, hotels, and fast-food facilities offer public access to Wi-Fi networks. These locations are known as hot spots. Many charge a daily or hourly rate for access, but some are free. An interconnected area of hot spots and network access points is known as a hot zone.
Unless adequately protected, a Wi-Fi network can be susceptible to access by unauthorized users who use the access as a free Internet connection. The activity of locating and exploiting security-exposed wireless LANs is called war driving. An identifying iconography, called war chalking, has evolved. Any entity that has a wireless LAN should use security safeguards such as the Wired Equivalent Privacy (WEP) encryption standard, the more recent Wi-Fi Protected Access (WPA), Internet Protocol Security (IPsec), or a virtual private network (VPN).
The term Wi-Fi was created the Wi-Fi Alliance as a play on "Hi-Fi," an abbreviation for "high fidelity," which referred to high-quality audio reproduction. Similarly, Wi-Fi is often thought to be short for wireless fidelity. However, according to the Wi-Fi Alliance, "Wi-Fi" is not an abbreviation. The confusion may stem from the fact that the Alliance briefly used "The standard for wireless fidelity" as a slogan for Wi-Fi.
Continue Reading About Wi-Fi
PRO+
Content
Find more PRO+ content and other member only offers, here.