Definition
TKIP (Temporal Key Integrity Protocol)
TKIP (Temporal Key Integrity Protocol) is an encryption protocol included as part of the IEEE 802.11i standard for wireless LANs (WLANs). It was designed to provide more secure encryption than the notoriously weak Wired Equivalent Privacy (WEP), the original WLAN security protocol. TKIP is the encryption method used in Wi-Fi Protected Access (WPA), which replaced WEP in WLAN products.

Download this free guide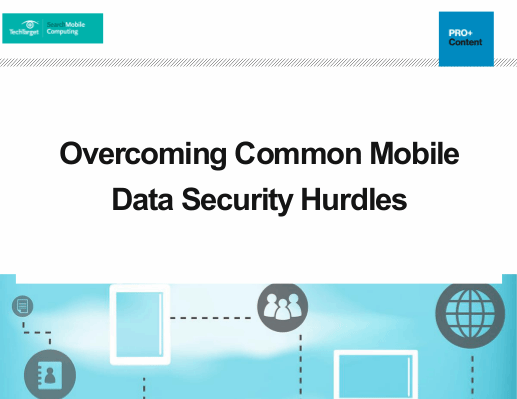 Free Guide: Strategies to improve mobile data security
Are you an IT admin struck with the task of managing the countless amount of mobile devices that connect to your enterprise network every day? Find out how you can rest a little easier when it comes to MDM with this complimentary guide featuring tips on improving your Mobile data security.
By submitting your email address, you agree to receive emails regarding relevant topic offers from TechTarget and its partners. You can withdraw your consent at any time. Contact TechTarget at 275 Grove Street, Newton, MA.
You also agree that your personal information may be transferred and processed in the United States, and that you have read and agree to the Terms of Use and the Privacy Policy.

TKIP is a suite of algorithms that works as a "wrapper" to WEP, which allows users of legacy WLAN equipment to upgrade to TKIP without replacing hardware. TKIP uses the original WEP programming but "wraps" additional code at the beginning and end to encapsulate and modify it. Like WEP, TKIP uses the RC4 stream encryption algorithm as its basis. The new protocol, however, encrypts each data packet with a unique encryption key, and the keys are much stronger than those of its predecessor. To increase key strength, TKIP includes four additional algorithms:
A cryptographic message integrity check to protect packets
An initialization-vector sequencing mechanism that includes hashing, as opposed to WEP's plain text transmission
A per-packet key-mixing function to increase cryptographic strength
A re-keying mechanism to provide key generation every 10,000 packets.
While TKIP is useful for upgrading security on devices originally equipped with WEP, it does not address all of the security issues facing WLANs and may not be reliable or efficient enough for sensitive corporate and government data transmission. The 802.11i standard specifies the Advanced Encryption Standard (AES) in addition to TKIP. AES offers a higher level of security and is approved for government use, but requires a hardware upgrade for implementation. As organizations replace older wireless equipment, AES is expected to become the accepted encryption standard for WLAN security.
Continue Reading About TKIP (Temporal Key Integrity Protocol)
Dig Deeper on Mobile data, back-end services and infrastructure
PRO+
Content
Find more PRO+ content and other member only offers, here.