SWAN (Structured Wireless-Aware Network) definition
SWAN (Structured Wireless-Aware Network) is a technology that incorporates a wireless local area network (wireless LAN or WLAN) into a wired wide-area network (WAN). The technology, developed by Cisco Systems, makes it possible for a wireless LAN to operate as a seamless extension of a wired network. As a result, an existing wired network can be made to serve hundreds of users, organizations, corporations, or agencies over a large geographic area.
Juggling BYOD Benefits and Burdens of Management in the Enterprise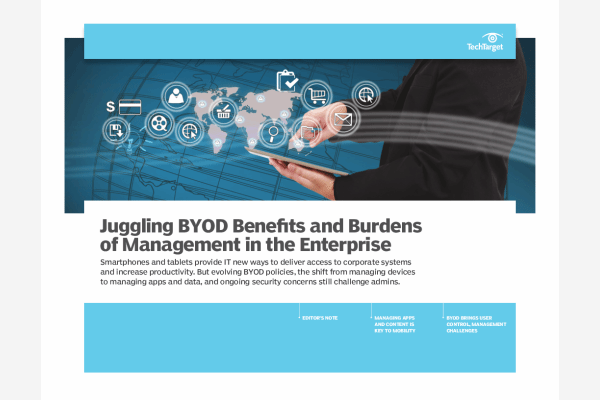 Experts explore the positive aspects of devices in the enterprise and address the challenges of managing more endpoints, facing security risks, and enforcing usage policies.
By submitting your email address, you agree to receive emails regarding relevant topic offers from TechTarget and its partners. You can withdraw your consent at any time. Contact TechTarget at 275 Grove Street, Newton, MA.
You also agree that your personal information may be transferred and processed in the United States, and that you have read and agree to the Terms of Use and the Privacy Policy.

A SWAN is said to be scalable, secure, and reliable. Special features include centralized management, simplified deployment, security policy monitoring, rogue access point detection and location, interference-source detection and location, radio-frequency (RF) scanning and monitoring, enhanced fault monitoring and troubleshooting tools, and fault tolerance.
Continue Reading About SWAN (Structured Wireless-Aware Network)
PRO+
Content
Find more PRO+ content and other member only offers, here.