Quiz
Quiz: Mobile Device Security -- Who else can hear me now?
Mobile device security and compliance regulations can be as hard to pin down as a strong connection for your smartphone. Test your knowledge of risk areas and compliance rules in this quiz.



Download this free guide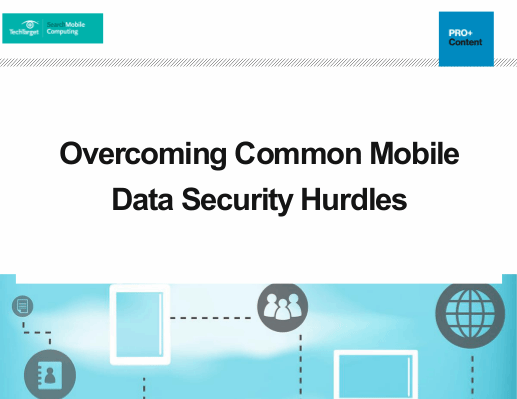 Free Guide: Strategies to improve mobile data security
Are you an IT admin struck with the task of managing the countless amount of mobile devices that connect to your enterprise network every day? Find out how you can rest a little easier when it comes to MDM with this complimentary guide featuring tips on improving your Mobile data security.
By submitting your email address, you agree to receive emails regarding relevant topic offers from TechTarget and its partners. You can withdraw your consent at any time. Contact TechTarget at 275 Grove Street, Newton, MA.
You also agree that your personal information may be transferred and processed in the United States, and that you have read and agree to the Terms of Use and the Privacy Policy.

1. True or False: Every month, more than 13 million mobile phones are left in taxis in large cities throughout the U.S. and Europe.
Answer
2. This is the unauthorized download of data from a computer to a small device with storage capacity, such as a flash drive, iPhone, iPod or other MP3 player. What is it?
Answer
3. This client/server protocol and software enables communication between remote and central servers for authentication and authorization of dial-in users. What is it?
Answer
4. Which wireless protocol is more secure, Wired Equivalent Privacy (WEP) or Wi-Fi Protected Access (WPA)?
Answer
5. You can create an isolated wireless network by adding a different SSID to an access point as a simple way to improve security. What does SSID stand for?
Answer
6. Allowing workers to connect to an organization's servers using a wireless network introduces a host of risks. Most security experts recommend the use of a mobile ______, a network configuration in which mobile devices access an intranet securely while moving from one physical location to another. What is it?
Answer
7. True or False: If you don't protect the financial data used in commercial transactions on mobile devices, you could be subject to a $10,000 fine.
Answer
8. If a mobile device is lost, mobile compliance regulations may require that a company demonstrate that:
A) The device was encrypted
B) The device never accessed a customer records database
C) Both
Answer
9. A _______ portal can be used to redirect all requests from unknown clients on a wireless network to a special Web page where users must authenticate themselves with valid credentials before they gain access to the Internet. What is it?
Answer
10. True or False: When you work for a privately held company, your mobile device policies must comply with Sarbanes-Oxley (SOX) regulations.
Answer
Did you like this quiz? Try another wireless and mobile quiz or security quiz.
Dig Deeper on Enterprise mobile security
PRO+
Content
Find more PRO+ content and other member only offers, here.