OTA update (over-the-air update) definition
1. An over-the-air update is the wireless delivery of new software or data to mobile phones and tablets.
Juggling BYOD Benefits and Burdens of Management in the Enterprise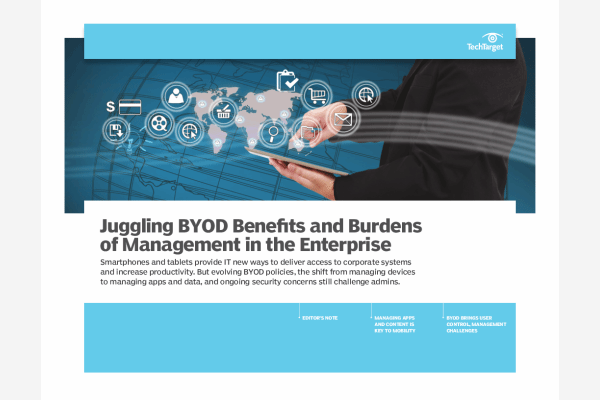 Experts explore the positive aspects of devices in the enterprise and address the challenges of managing more endpoints, facing security risks, and enforcing usage policies.
By submitting your email address, you agree to receive emails regarding relevant topic offers from TechTarget and its partners. You can withdraw your consent at any time. Contact TechTarget at 275 Grove Street, Newton, MA.
You also agree that your personal information may be transferred and processed in the United States, and that you have read and agree to the Terms of Use and the Privacy Policy.

Wireless carriers have traditionally used over-the-air updates to deploy firmware and configure phones for use on their networks. The initialization of a newly purchased phone, for example, requires an over-the-air update. With the rise of smartphones and tablets, carriers and manufacturers have also turned to over-the-air updates for deploying new operating systems to these devices.
Starting with iOS 5.0.1, Apple said it would make all iOS updates available over the air. Previous iOS updates required iTunes and a physical connection between the iOS device and a computer.
2. Over The Air (OTA) is a standard for the transmission and reception of application-related information in a wireless communications system
PRO+
Content
Find more PRO+ content and other member only offers, here.