Microsoft System Center Mobile Device Manager (MSCMDM)
Microsoft System Center Mobile Device Manager (MSCMDM) is server-based software that allows enterprise IT professionals to manage and automate tasks for Windows Mobile devices. (Continued...)
Looking for something else?
Microsoft System Center Mobile Device Manager (MSCMDM) is server-based software that allows enterprise IT professionals to manage and automate tasks for Windows Mobile devices. Companies can use MSCMDM to add new applications to phones over wireless networks and provide secure access to corporate data or internal applications using a mobile virtual private network (VPN). MSCMDM uses Active Directory to enforce group policy settings for connected devices, just as Microsoft System Center fdoes for laptops and desktop PCs.
Juggling BYOD Benefits and Burdens of Management in the Enterprise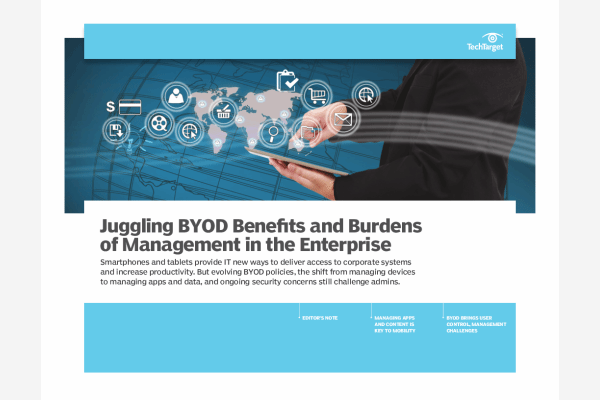 Experts explore the positive aspects of devices in the enterprise and address the challenges of managing more endpoints, facing security risks, and enforcing usage policies.
By submitting your personal information, you agree to receive emails regarding relevant products and special offers from TechTarget and its partners. You also agree that your personal information may be transferred and processed in the United States, and that you have read and agree to the Terms of Use and the Privacy Policy.

Microsoft System Center Mobile Device Manager 2008 added more than 100 new management features to MSCMDM. IT administrators can now remotely allow or deny applications being run Windows Mobile devices, disabling digital cameras or other selected functions. MSCMDM 2008 also features encryption of storage card data, providing protection to sensitive information even when the card is removed.
MSCDM also allows administrators to remotely wipe sensitive data from devices, in case of loss or theft. In general, the software reduces maintenance and troubleshooting costs, scaling quickly from dozens to hundreds or thousands of users on a given server.
PRO+
Content
Find more PRO+ content and other member only offers, here.