Bluetooth
Bluetooth is a computing and telecommunications industry specification that describes how mobile phones, computers, and personal digital assistants (PDAs) can easily interconnect with each other and with home and business phones and computers using a short-range wireless connection. (Continued...)
Looking for something else?
Bluetooth is a telecommunications industry specification that describes how mobile phones, computers, and personal digital assistants (PDAs) can be easily interconnected using a short-range wireless connection. Using this technology, users of cellular phones, pagers, and personal digital assistants can buy a three-in-one phone that can double as a portable phone at home or in the office, get quickly synchronized with information in a desktop or notebook computer, initiate the sending or receiving of a fax, initiate a print-out, and, in general, have all mobile and fixed computer devices be totally coordinated.
A Comprehensive Roadmap to BYOD Governance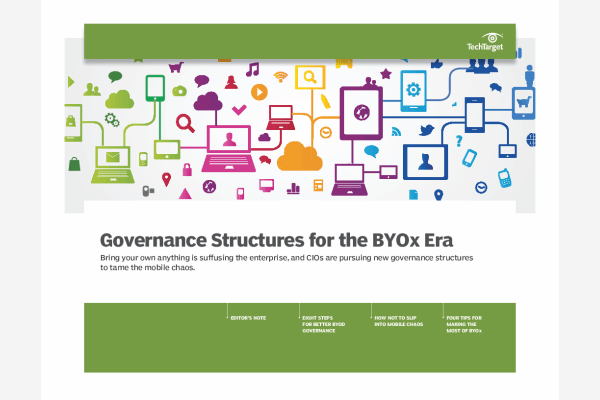 Establishing a long-term plan for maintaining control of IT and end-users is critical in today's evolving workplace. This comprehensive guide details the steps necessary for establishing and maintaining safe and effective mobile BYOD practices - from the procurement-stage through to policy and governance.
By submitting your personal information, you agree to receive emails regarding relevant products and special offers from TechTarget and its partners. You also agree that your personal information may be transferred and processed in the United States, and that you have read and agree to the Terms of Use and the Privacy Policy.

Bluetooth requires that a low-cost transceiver chip be included in each device. The tranceiver transmits and receives in a previously unused frequency band of 2.45 GHz that is available globally (with some variation of bandwidth in different countries). In addition to data, up to three voice channels are available. Each device has a unique 48-bit address from the IEEE 802 standard. Connections can be point-to-point or multipoint. The maximum range is 10 meters. Data can be exchanged at a rate of 1 megabit per second (up to 2 Mbps in the second generation of the technology). A frequency hop scheme allows devices to communicate even in areas with a great deal of electromagnetic interference. Built-in encryption and verification is provided.
The technology got its unusual name in honor of Harald Bluetooth, king of Denmark in the mid-tenth century.
Continue Reading About Bluetooth