BlackBerry
The BlackBerry is a handheld device made by RIM (Research In Motion) that is widely used in the enterprise for its wireless email handling capability. (Continued...)
Looking for something else?
PRODUCTS
The BlackBerry is a smartphone that is widely used in the enterprise for its wireless email handling capability.
Download: IT Acronyms - A Quick Reference Guide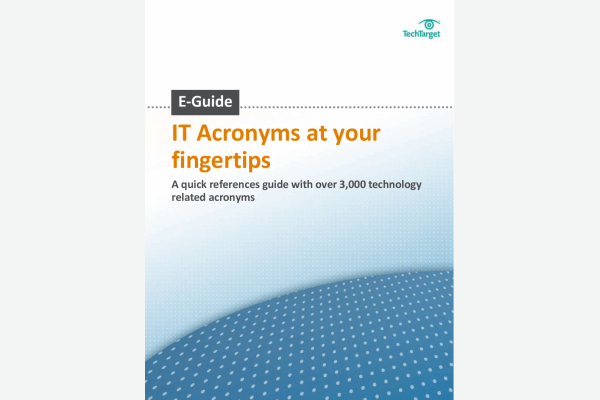 Download this free quick reference guide with over 3,000 IT acronyms; including a special section of the top 15 acronyms you need to know today.
By submitting your personal information, you agree to receive emails regarding relevant products and special offers from TechTarget and its partners. You also agree that your personal information may be transferred and processed in the United States, and that you have read and agree to the Terms of Use and the Privacy Policy.

Other features that have made the BlackBerry popular in the enterprise include:
Superior reception.
Support for remote administration.
Message encryption.
Push email.
Built-in personal digital assistant (PDA) with an address book and personal schedule.
Can be configured for use as a pager.
Support for multimedia and most communications modes, including Web browsing, text messaging and wireless faxing.
The BlackBerry was originally known as "LeapFrog." RIM consulted with Lexicon Branding Inc. to choose a new name. Someone at Lexicon suggested "Strawberry" because the tiny keys resembled the seeds on a strawberry. That idea was nixed, however, and "BlackBerry" was chosen as an alternative. The device is often referred to as the CrackBerry because of its compelling nature.
As of December 2008, BlackBerry subscribers numbered approximately 21 million.
Continue Reading About BlackBerry