BitPim
BitPim is a cross-platform, open source application for managing data on cell phones that use the CDMA mobile telephony protocol. BitPim can be used to back up data stored on a phone and synchronize contacts and calendars... (Continued)
Looking for something else?
BitPim is a cross-platform, open source application for managing data on cell phones that use the CDMA mobile telephony protocol. BitPim can be used to back up data stored on a phone and synchronize contacts and calendars. It is compatible with a number of calendar and contact management systems including Google Apps, Microsoft Office and other software applications that support the CSV (comma separated values), vCalendar or iCalendar formats.
Juggling BYOD Benefits and Burdens of Management in the Enterprise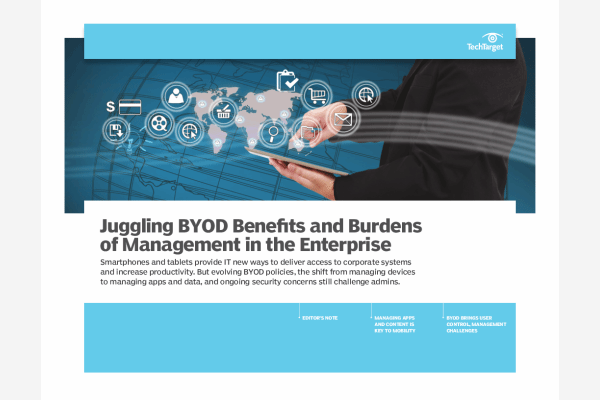 Experts explore the positive aspects of devices in the enterprise and address the challenges of managing more endpoints, facing security risks, and enforcing usage policies.
By submitting your personal information, you agree to receive emails regarding relevant products and special offers from TechTarget and its partners. You also agree that your personal information may be transferred and processed in the United States, and that you have read and agree to the Terms of Use and the Privacy Policy.

BitPim also supports the personalization of several other different data types, including:
contact information
calendars
Because BitPim allows the end user to have direct access to core phone functions and data, the potential for the user to significantly impair the phone's ability to function is significant. Installing BitPim may void any warranties provided by the manufacturer of the phone or the wireless service provider and be considered "hacking" the phone.
Most phones with a CDMA chipset manufactured by Qualcomm are BitPim-compatible. These include devices from LG, Samsung and Sanyo. In order to use BitPim, the user needs a data cable and a software driver, available at the BitPim Web site.
BitPim was built using the Python and C programming languages. The newest versions of the application use a database built with SQLite to track changes. BitPim is distributed as freeware under the GNU General Public License (GPL). BitPim developers note that functionality will vary widely from phone to phone.
Continue Reading About BitPim
PRO+
Content
Find more PRO+ content and other member only offers, here.