802.11k
802.11k is a proposed standard for a series of measurement requests and reports involving channel selection, roaming, transmit power control (TPC), and subscriber statistics in 802.11 wireless local area networks (WLANs).
Looking for something else?
TECHNOLOGIES
802.11k is a proposed standard for how a wireless local area network (WLAN) should perform channel selection, roaming, and transmit power control (TPC) in order to optimize network performance. It is part of the 802.11 family of specifications.
Juggling BYOD Benefits and Burdens of Management in the Enterprise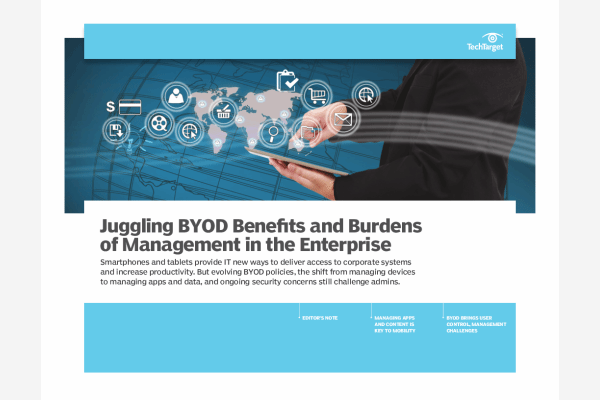 Experts explore the positive aspects of devices in the enterprise and address the challenges of managing more endpoints, facing security risks, and enforcing usage policies.
By submitting your personal information, you agree to receive emails regarding relevant products and special offers from TechTarget and its partners. You also agree that your personal information may be transferred and processed in the United States, and that you have read and agree to the Terms of Use and the Privacy Policy.

802.11k is intended to improve the way traffic is distributed within a network. In a wireless LAN, each device normally connects to the access point (AP) that provides the strongest signal. Depending on the number and geographic locations of the subscribers, this arrangement can sometimes lead to excessive demand on one AP and underutilization of others, resulting in degradation of overall network performance. In a network conforming to 802.11k, if the AP having the strongest signal is loaded to its full capacity, a wireless device is connected to one of the underutilized APs. Even though the signal may be weaker, the overall throughput is greater because more efficient use is made of the network resources.
There is disagreement as to how soon the new specification will be formally adopted, and how soon after that devices using it will become available. Some sources predict deployment as early as 2005; others suggest that the process will take several years.
Continue Reading About 802.11k
PRO+
Content
Find more PRO+ content and other member only offers, here.