Essential Guide
Mapping your wireless local area network: How to make your WLAN shine
A comprehensive collection of articles, videos and more, hand-picked by our editors
802.11
802.11 is an evolving family of specifications for wireless local area networks (WLANs) developed by a working group of the Institute of Electrical and Electronics Engineers (IEEE)....(Continued)
FROM THE ESSENTIAL GUIDE:
802.11 is an evolving family of specifications for wireless local area networks (WLANs) developed by a working group of the Institute of Electrical and Electronics Engineers (IEEE). There are several specifications in the family and new ones are occasionally added.
A Comprehensive Roadmap to BYOD Governance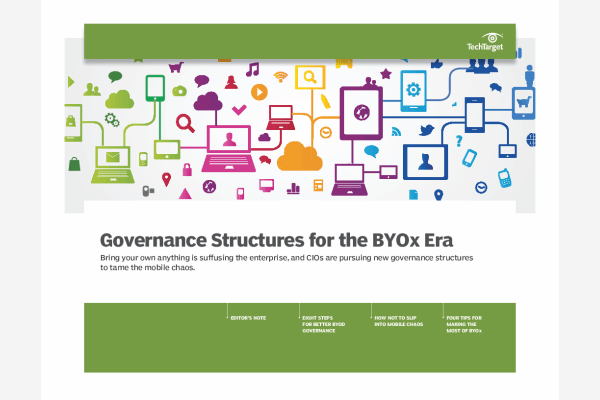 Establishing a long-term plan for maintaining control of IT and end-users is critical in today's evolving workplace. This comprehensive guide details the steps necessary for establishing and maintaining safe and effective mobile BYOD practices - from the procurement-stage through to policy and governance.
By submitting your personal information, you agree to receive emails regarding relevant products and special offers from TechTarget and its partners. You also agree that your personal information may be transferred and processed in the United States, and that you have read and agree to the Terms of Use and the Privacy Policy.

All the 802.11 specifications use the Ethernet protocol and Carrier Sense Multiple Access with Collision Avoidance (CSMA/CA) for path sharing. The original modulation used in 802.11 was phase-shift keying (PSK). However, other schemes, such as complementary code keying (CCK), are used in some of the newer specifications. The newer modulation methods provide higher data speed and reduced vulnerability to interference.
The 802.11 specifications are summarized in our IEEE 802 Wireless Standards: Fast Reference.
Continue Reading About 802.11