Q
Implementing a split VLAN wireless infrastructure
We are implementing a wireless infrastructure and we're proposing a split VLAN structure. Do you have any suggestions?
Looking for something else?
TECHNOLOGIES
We are implementing a wireless infrastructure. We are proposing a split VLAN structure, meaning an authenticated access and internet only. Once a wireless user is determined to have internet only access, we want them forwarded to a disclaimer website prior to being given internet access. Any suggestions?
There are two common methods of doing what you want. One is to make the decision at the access point, and the other is to make the decision at a wireless gateway/switch.
To make the decision at the access point, you'd use an AP that supports VLAN tagging based on SSID. You'd define one SSID for unauthenticated Internet access (VLAN #1), and another SSID for authenticated private network access (VLAN #2). You'd need to connect your APs to a VLAN-capable switch to relay VLAN #1 traffic in one direction, VLAN #2 traffic in the other direction. You'd send VLAN #1 traffic through a web portal, for example NoCatSplash, to display your disclaimer page.

Download this free guide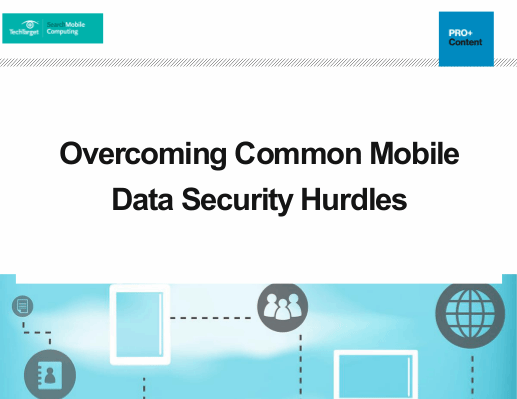 Free Guide: Strategies to improve mobile data security
Are you an IT admin struck with the task of managing the countless amount of mobile devices that connect to your enterprise network every day? Find out how you can rest a little easier when it comes to MDM with this complimentary guide featuring tips on improving your Mobile data security.
By submitting your email address, you agree to receive emails regarding relevant topic offers from TechTarget and its partners. You can withdraw your consent at any time. Contact TechTarget at 275 Grove Street, Newton, MA.
You also agree that your personal information may be transferred and processed in the United States, and that you have read and agree to the Terms of Use and the Privacy Policy.

To make the decision at a wireless gateway/switch, you can use any AP and one or more SSIDs (depending on your desired link layer security architecture). The gateway/switch will be responsible for acting as the web portal, displaying a login page, letting guests "click through" without authenticating, providing real user authentication for others, and enforcing role-based access control. Many wireless gateways and switches can also apply VLAN tags based on authenticated role. Andy Dornan wrote a nice overview of WLAN gateways and switches for Network Magazine; you'll find plenty of vendor product URLs there.
Dig Deeper on Mobile networking
PRO+
Content
Find more PRO+ content and other member only offers, here.
Have a question for an expert?
Please add a title for your question
Get answers from a TechTarget expert on whatever's puzzling you.