Q
Do cordless phones affect quality of WLANs?
Looking for something else?
TECHNOLOGIES
Will handphones affect the quality of wireless LAN? What are the things that can interfere with a Wireless LAN?
Cordless phones that operate in the same frequency band can impact the performance of wireless LANs. For example, 2.4 GHz cordless phones based on FHSS and phones with Bluetooth headsets are both likely to interfere with 802.11b and 802.11g WLANs, if their coverage footprints overlap.
That doesn't necessarily mean that you must retire your cordless phone if you install a WLAN. 2.4 GHz cordless phones based on DSSS can often coexist with 802.11b WLANs. Results vary by phone manufacturer, so if you run into trouble, borrow someone else's phone and try it. In my home office, I use 2.4 GHz cordless phones and they do not unduly interfere with my 802.11b WLAN.

Download this free guide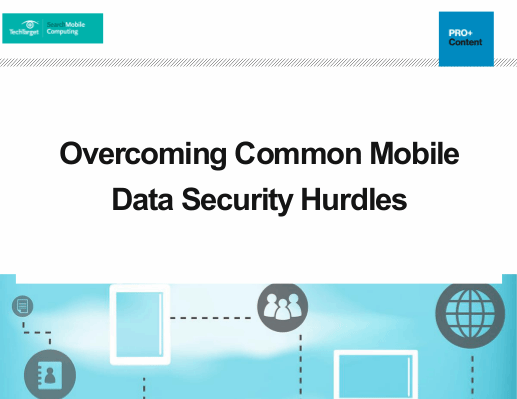 Free Guide: Strategies to improve mobile data security
Are you an IT admin struck with the task of managing the countless amount of mobile devices that connect to your enterprise network every day? Find out how you can rest a little easier when it comes to MDM with this complimentary guide featuring tips on improving your Mobile data security.
By submitting your email address, you agree to receive emails regarding relevant topic offers from TechTarget and its partners. You can withdraw your consent at any time. Contact TechTarget at 275 Grove Street, Newton, MA.
You also agree that your personal information may be transferred and processed in the United States, and that you have read and agree to the Terms of Use and the Privacy Policy.

Common sources of interference with 802.11b (and now 802.11g) WLANs include 2.4 GHz phones, Bluetooth devices, older/leaky microwave ovens, neighboring WLANs, and other kinds of radios using the unlicensed ISM band. WLANs in locations with excessive ISM band interference can move to 802.11a. The 5 GHz UNII band occupied by 802.11a is much less crowded, but there are other radio applications in that band as well.
Dig Deeper on Mobile networking
PRO+
Content
Find more PRO+ content and other member only offers, here.
Have a question for an expert?
Please add a title for your question
Get answers from a TechTarget expert on whatever's puzzling you.