Q
Configuration crisis: Wireless PCI card will not access network properly
Looking for something else?
I have added a Linksys wireless g router and PCI card to my network. I have properly configured my router but my wireless PCI card will not access the network properly. When you view its status, it is sending data but not receiving any. I have reinstalled a number of times, to no avail. Any ideas?
Typically, when the card's status is "enabled", and you see packets sent but not received, the problem is one of three things: (a) the client has failed to associate with the AP, (b) has failed authentication, or (c) has not been able to get an IP address using DHCP.
a) Use your router's GUI to look at association status or a connection log to verify that your client is actually associating to your router. You can also see association status on your client, either by looking at the wireless card's client GUI or by looking at the Network Connections control panel status. If your client is not associating at all, then you may have a basic mismatch in wireless parameters. Check SSID and channel (if configurable).

Download this free guide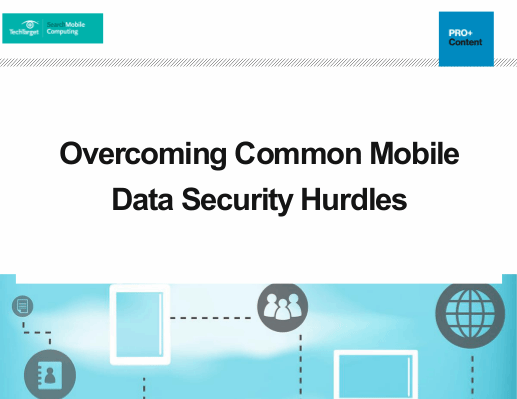 Free Guide: Strategies to improve mobile data security
Are you an IT admin struck with the task of managing the countless amount of mobile devices that connect to your enterprise network every day? Find out how you can rest a little easier when it comes to MDM with this complimentary guide featuring tips on improving your Mobile data security.
By submitting your email address, you agree to receive emails regarding relevant topic offers from TechTarget and its partners. You can withdraw your consent at any time. Contact TechTarget at 275 Grove Street, Newton, MA.
You also agree that your personal information may be transferred and processed in the United States, and that you have read and agree to the Terms of Use and the Privacy Policy.

b) You do not say what security settings you have in place on your wireless router, but if you are using 802.1X or WPA, then your client could be associating correctly but then failing authentication. Try getting the connection to work without security first by setting both the router and the card to use no encryption and open (no) authentication. If this is fixes your problem, then work on getting the right matching security settings on both devices.
c) Next, look at the client's connection status panel. Click on the support tab and look at the IP address. If the address is either zero or "169.254.x.x" (the automatic range used when DHCP fails), then you are not getting an IP address from your router. Look at your client's TCP properties to verify that it is using DHCP to get its address automatically. Then check the router's configuration to make sure that the DHCP server is enabled. If you make changes to either side, reboot your router, then your PC, to make sure that the wireless card (re)issues a DHCP request after the router's DHCP server is running.
Dig Deeper on Mobile networking
PRO+
Content
Find more PRO+ content and other member only offers, here.
Have a question for an expert?
Please add a title for your question
Get answers from a TechTarget expert on whatever's puzzling you.